Did Groundhog Day have Broadway critics repeating each other?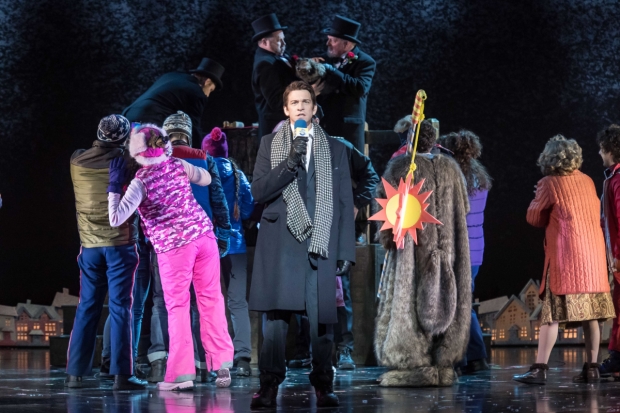 "The entire first hour of [Tim Minchin's] musical is a jazz-like theme and variation on the same four songs… It's pretty ingenious and, combined with Rubin's book, never once feels circular."
"Yet the show itself loses steam when it becomes a more conventional piece. Rubin and Minchin make some crucial missteps, like giving big songs to ancillary characters who heretofore had no particular development and disappear thereafter."
"It's in Faulkenberry's big number, the beautiful but oddly placed second-act opener "Playing Nancy," in which we realize that the show has a woman problem too, in that women only exist in this universe as sex objects."
"Overall, Groundhog Day is one of the more imaginative musicals of the season. When the material is combined with Warchus' cinematic staging (on an eye-popping but frequently malfunctioning five-turntable set by Rob Howell), it is also one of the most consistently thrilling and even includes an exciting car chase."
"Repetition is an art of infinite variety as it's practiced by Andy Karl in Groundhog Day, the dizzyingly witty new musical from the creators of Matilda… Mr. Karl is so outrageously inventive in ringing changes on the same old, same old, that you can't wait for another (almost identical) day to dawn."
"The insanely talented Mr. Minchin writes songs in many shades, though he's probably most at home where shadows lurk. As in Matilda, his undulating melodies and whip-smart lyrics tap into the brooding sides of the supporting characters, extending the reach of existential anxiety beyond Phil's solipsism."
"Will Broadway audiences be willing to follow Groundhog Day into its darkest corners? The bigger problem for many might be the plenitude of styles in which the movie traffics. The show is tighter and more consistent than when I saw it at the Old Vic in London. But it could still shed a number or two, including a long sequence in which Phil consults various fraudulent doctors."
Marilyn Stasio, Variety
"In the musical book [Danny] Rubin adapted from his own screenplay, he softens the character's repellent nature, while still leaving him room to learn how to be human."
"The rest is up to Andy Karl, who faithfully delivers the lines that let us know Phil is a jerk… But even when he's sneering at this one-horse town… Karl seems constitutionally incapable of showing us his bad side; if, indeed, this affable thesp even has a bad side."
"Under Matthew Warchus's helming, Phil's adventures in Punxsutawney are like Alice's adventures in Wonderland — fantastical and fun. Rob Howell's set designs and Paul Kieve's illusions rely on amusing optical illusions like miniature car chases and teeny-tiny houses that curl around the proscenium."
"Unfortunately, [Tim Minchin's] music lacks a distinctive sound and doesn't rise above monotony, not even in the song that (so help me!) involves an enema."
"When it comes to credible depictions of small-town Pennsylvania, Groundhog Day is about as veracious as a woodchuck named Phil is a qualified rodent meteorologist. This British import to Broadway — staged by people for whom small-town America is a typology, rather than a collection of souls — is more Whoville than Punxsutawney."
"Director Matthew Warchus' overstuffed and near-chaotic production is similarly far from Woodstock, Ill., the doppelganger for exurban insularity used to film the 1993 movie."
"Andy Karl… is closer to the open-face sandwich that is Jim Carrey than to the iconoclastic Cubs fan Murray, benign and dangerous, perplexing and perplexed and a guy who looked like he'd been knocked around by the storms of life."
"Minchin is about the wittiest lyricist on any rialto down under or up above, and his songs in this show are a series of deliciously funny, quirky and waggish little ditties that make you laugh out loud, even as they add more absurdist depth to Rubin's book."
"Yes, there were problems with the set, and an injury occurred. Yes, the show frequently seems on the verge of spinning out of control. But there is neat whimsy — I doubt you'll soon forget the best car chase I've ever seen on stage (Sunset Boulevard, take note) — and genuine feeling, in part because Karl is a deeply appealing guy, as he showed in the ill-fated Rocky Broadway.
"There are some missteps made in the name of political correctness, I suppose, though even I, unashamedly Mr. P.C., found the song at the top of Act II, sung by Phil's early one-night-stand, tiresome."
"But in all, there's a tremendous amount of pleasure to be had here. Just check your memory at the door. Because sometimes, you really do need a weatherman to know the way the wind blows."
Groundhog Day is currently booking at the August Wilson Theatre, New York until 7 January 2018.