Groundhog Day breaks Old Vic box office records – director teases future life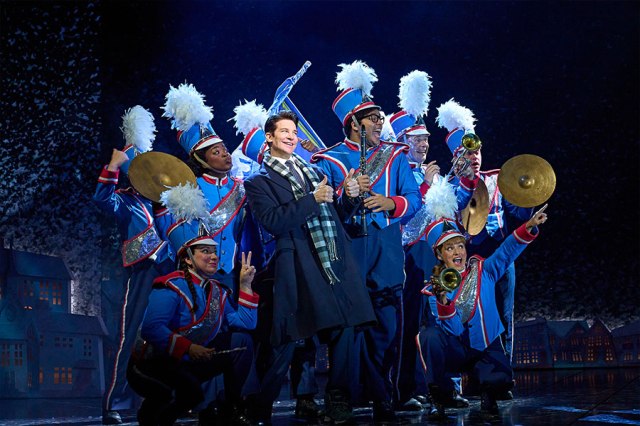 Groundhog Day has set a new box office record for the Old Vic, it has been revealed.
The musical is based on the 1993 movie of the same name and features a score by Tim Minchin, with book by Danny Rubin and direction by the venue's artistic director Matthew Warchus. It has once again been showered with critical acclaim, with WhatsOnStage's Sarah Crompton describing it as "literally, marvellous."
According to the venue, the musical has exceeded all previous box office records to become the highest-grossing Old Vic production in history. It will play its final four performances before concluding on Saturday.
Discussing the record-breaking run, Warchus said: "It has been a true honour and delight to bring Groundhog Day back to the Old Vic and give it a fresh new lease of life. The show, now seen by over 65,000 people in 2016 and almost 90,000 people this summer, has broken all box office records (including its own records set in 2016) and its immense popularity is a tribute not only to the brilliant writers, Tim Minchin and Danny Rubin, but also the outstanding creatives, cast, band and crew, and all the teams at the Old Vic who helped deliver the production with such skill, commitment and affection."
Warchus teased the show's future, saying: "This surprisingly moving and joyful show is very dear to my heart, and I can't wait to bring it to a wider audience in the near future. Watch this space…"
Alongside Andy Karl and Tanisa Spring, who lead the show as Phil and Rita, the cast also includes Jasmin Colangelo (swing/dance captain/puppetry captain), Kelly Ewins-Prouse (swing/dance captain), Kamilla Fernandes (ensemble (Debbie)), Aimée Fisher (ensemble (Joelle)), Zack Guest (swing), Nick Hayes (ensemble (Ralph)), Jacqueline Hughes (ensemble (Piano Teacher)), Ashlee Irish (ensemble (Larry)), Chris Jenkins (ensemble (Gus)), Andrew Langtree (ensemble (Ned Ryerson)), Rachel Moran (swing), Billy Nevers (ensemble (Fred)), Eve Norris (ensemble (Nancy)), Mark Pearce (ensemble (Sheriff)), Ben Redfern (ensemble (Buster)), Tanisha Spring (Rita Hanson), Durone Stokes (ensemble (Deputy)), Alex Stoll (ensemble (Billy)), Jez Unwin (ensemble (Jenson)), Annie Wensak (ensemble (Mrs Lancaster)), and Matthew Whennell-Clark (swing/assistant dance captain).
The show features choreography by Lizzi Gee, set and costume by Rob Howell, orchestration, additional music and musical supervision by Christopher Nightingale, lighting by Hugh Vanstone, sound by Simon Baker, illusions by Paul Kieve, video and animation by Andrzej Goulding and additional movement by Finn Caldwell. Casting is by Will Burton, musical direction by Alan Berry, voice by Charlie Hughes-D'Aeth, and dialect by Penny Dyer.
The associate directors are Paul Warwick Griffin and Nik Ashton, and the assistant director is Natalie Gilhome, with associate choreography by Helen Siveter, associate set by Bec Chippendale and Megan Rouse, costume supervision by Zoë Thomas-Webb, hair, wigs and make-up by Campbell Young Associates, and prop supervision by Marcus Hall Props. The assistant musical supervisor is Jack Hopkins, with associate lighting by Chris Hirst and associate sound by Jay Jones.
Tickets are on sale below.