Gate marks 35th anniversary with 'most ambitious' season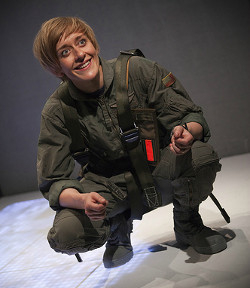 Gate Theatre artistic director Christopher Haydon has announced the venue's "most ambitious season to date" to mark its 35th anniversary.
The season, entitled Who Does She Think She Is?, opens in September with Haydon's production of Adam Rapp's The Edge of Our Bodies, a coming-of-age story about a pregnant teenager.
It's followed by a UK premiere of Deborah Stein and Suli Holum's collaboration of Chimera (20 November-20 December), about a girl with a rare DNA abnormality.
And completing the season is Aditi Brennan Kapil's The Chronicles of Kalki (8-31 January 2015), directed by JMK Award winner Alex Brown, centring a troubled girl who may or may not be the tenth incarnation of the Hindu god Vishnu.
"Each play takes a different perspective – personal, political or scientific – to explore the fundamental building blocks of our identity through the prism of three compelling, complex female protagonists," Haydon explained.
The season will also see the Gate launch its first ever UK tour, of George Brant's acclaimed one woman play Grounded, about a female fighter pilot.
Haydon added: "This story of a female fighter pilot-turned mother-turned drone pilot has become a modern day, political classic, and embodies all of the layers of the question Who Does She Think She Is?"
The Gate has also announced casting for its forthcoming UK premiere production of Idomeneus by Roland Schimmelpfennig (19 June-19 July). Ellen McDougall directs Alex Austin, Jon Foster, Mark Monero, Susie Trayling, and Ony Uhiara.