Fun Home at the Gate Theatre review – a stunningly remade gut-punch of a musical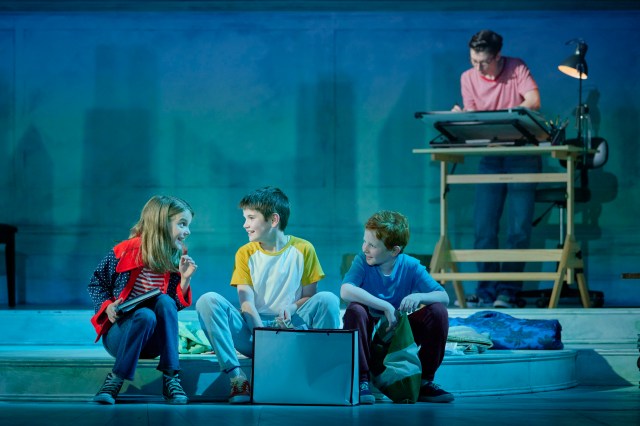 A truly great musical can withstand a variety of interpretations (think Sondheim and the Rodgers and Hammerstein canon) and Jeanine Tesori and Lisa Kron's quirky but searing modern classic undoubtedly deserves that description. Róisín McBrinn's breathtaking Fun Home for Dublin's Gate Theatre could hardly be more different from Sam Gold's original New York and London versions, aside from some visual choices dictated by Alison Bechdel in her autobiographical graphic novel upon which this Olivier-nominated and Tony-winning Best Musical is based, but is every bit their match. This new production hits home with the same sense of shattering catharsis and exquisitely honed regret.
Visual artist Alison Bechdel grew up with the suspicion that her father Bruce – a teacher, an aesthete and a funeral director – was gay, only to have that confirmed when he took his own life within months of her own coming out, and she committed her unconventional family history to a pictorial novel that is part exorcism, part exploration. The title is the jokey name the Bechdels gave to the family undertaking business (funeral home = fun home). Kron's fine script depicts Alison in triplicate: the older woman, played here by Frances McNamee, an artist sitting at her drawing table, summoning up images and figures from her damaged past, the college kid (Orla Scally) joyfully discovering love and her own sexuality for the first time, and the child, exuberant but watchful (Chloe Cody at the performance I saw, but the role is alternately played by Jodi Kaye). It's a neat, dramatically satisfying concept and one that becomes almost unbearably moving when the three of them interact, as they do in "Flying Away", the luminous, releasing finale.
Tesori has provided the music to three of the greatest American musical theatre scores of the last twenty years (the others being Caroline, or Change and current Broadway triumph Kimberly Akimbo) and her work is so eclectically in tune with the requirements of situation, character and time period that it almost doesn't get the recognition it deserves. Fun Home pastiches the 1970s TV themes that Bechdel grew up with, mixes it up with folk and pop, and then cross-fertilises with a lyrical beauty and edge that recalls Sondheim at his most interesting. Kron's lyrics and book make the transition between speech and song barely noticeable. They're witty, trenchant and heartfelt. One tenet of good musical theatre writing is that characters burst into song when they have no other means of expressing themselves, and Fun Home is a prime example of that. The score has an epic sweep combined with a delightful specificity and, at times, an endearing oddness, as we get to peek into these lives; it's almost a musical for people who think they don't like musicals.
The visual aesthetic is artist's blank canvas meets a sepulchre, on Paul Wills's pallid, impressionist set, rooted into reality at intervals by the introduction of realistic furniture and props, including at one point an actual coffin. We don't get the extraordinary reveal of the house that was so thrilling originally but this version is so clear and urgent that it doesn't feel like a great loss. On the Gate's wide but shallow stage, McBrinn's staging is grandiose but intimate, infused with a riveting dreamlike quality. David Hayes's magnificent five-piece band is suspended above the action, and the only flaw is that the acoustics are sometimes a bit muffled.
The casting is world-class. McNamee's voice has a folky sweetness that fits this score like a velvety glove but which can transform into a Brechtian harshness in moments of extreme distress. Her acting is generous, allowing her fellow performers to shine while she puts herself through hell remembering traumas past. She's simultaneously everywhere yet entirely unobtrusive. It's a quietly stunning performance, one that haunts long after the show is done.
Chloe Cody's Small Alison heartbreakingly conveys the serious watchfulness of a child who has seen way more than a person of so few years ever should have, and she nails the iconic "Ring of Keys" number where the little girl gets an inkling of her authentic nature ("Why am I the only one who sees you're beautiful? No, I mean…handsome").
Medium Alison is perhaps the least difficult of the roles in that she gets to experience her emotions first-hand without the varnish of memory or childhood, but Scally is just wonderful, so open and confused, then enraptured before imperceptibly toughening up as she realises her own survival may depend on drawing a veil over her troubled home life. As Joan, the rebellious student who becomes Alison's first love, Jade Kennedy is sassy perfection, suggesting both a safe haven and an irresistibly ripe sexuality. The supercharged "Changing My Major to Joan", sung by Alison in a state of post-coital exultation ("I'm changing my major to Joan, with a minor in kissing Joan, foreign study to Joan's inner thighs"), has seldom made so much sense.
Nichola McEvilly's unwilling matriarch Helen is an intriguing creation. More obviously bohemian than her predecessors in the role (the character is a retired actress), she uses artifice as a coping mechanism, striking attitudes like an American version of a Coward leading lady, when in reality she is really more like Mrs Alving from Ghosts. She's more brittle and glamorous, less resigned. It's a compelling, valid choice and if it means that her big solo "Days and Days" feels less like the cri de cœur 11 o'clock number it did in the hands of Judy Kuhn and Jenna Russell, it's impossible to take your eyes off her.
Killian Donnelly, in a performance entirely devoid of vanity, delivers career-highlight work, his dashing leading man charisma and trademark ringing tenor kept firmly in check in service of one of the most problematic leading roles in all musical theatre. Donnelly invests Bruce with a child-like quality that suggests a soul permanently tethered to an earlier version of himself, one where living an authentic gay life should have been a possibility. This makes his seduction of much younger, indeed underage, men no more palatable but at least comprehensible, while also making clear the cause of his unsettling outbursts of incandescent rage. He's at odds with himself, and his family, and the sense of a man who imposes painstaking rigour and precision on his restoration of artefacts and antiques to mask his messy and murky inner life is very keenly felt. He finally gets to unleash his voice on "Edges of the World", the howl-of-distress aria Bruce has just before his suicide, and it is devastating.
As the various men seduced and captivated by Bruce, Riain Cash is so versatile I had to check my programme to make sure they hadn't cast several actors, and there's terrific work from Trystan Rhys Bruen and Ethan O'Connor (who alternate with Seán O'Callaghan and Harley Cullen Walsh) as Alison's younger brothers.
This is a major event, and the legions of admirers in the UK who still mourn the fact that the brilliant (and sold-out) Young Vic production of 2018 never received the West End transfer it deserved need to get themselves over to Dublin pronto. It's remarkable how something so unremittingly sad can prove so completely and utterly exhilarating, with that shaft of light that illuminates the darker recesses of the human soul and the divine seasoning of artists at the top of their game. A beautiful gut-punch of a musical, stunningly remade; I loved every painful, tear-soaked second of it.