Frantic Assembly's Metamorphosis on tour – review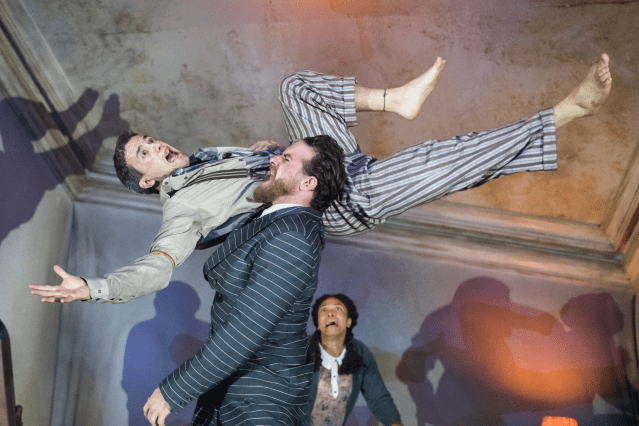 We work, then we die. It's an unfortunate cycle that we are trapped in. Though it could be worse, we could turn into an insect partway through.
There lies the bones of Franz Kafka's seminal text Metamorphosis. Performed in a new piece by Frantic Assembly and adapted by Lemn Sissay – the tale is an urgent observation of a bloodsucking, broken system that renders people worthless if they cannot work.
When Gregor Samsa; a people-pleasing workaholic finds himself changed into an undefined insect, his family immediately feel the drain of his income used to keep their rotting house afloat. His sister, who once idolised him, becomes resentful. His mother, who complains about mess but never lifts a finger, grows hysterical. And his father, forced to find a job, gets angry.
What there is of a story plays out in a box of a room – designed by Jon Bauser. Projections flash vintage magazine papers – splashing dated family ideals placing us in the 1970s or thereabouts. The tilted ceiling is splattered with tea stain-like mould and a single white bed becomes a cocoon. On the chest of drawers is a framed painting of a fashion model – clung to for reasons that never quite become clear. It feels institutional and devoid of love and care.
In the shadow of the box the debt-ridden family slowly disintegrates. Simisola Majekodunmi does wonders with placing the cast under harsh lights as if they are being inspected and interrogated whilst using darkness as a blanket for some chilling illusions.
As the father and mother, Troy Glasgow and Louise Mai Newberry have their moments in the spotlight. Newberry's turn features dreamlike choreography that softens the second half, whilst Glasgow roars as he enters the 9 to 5 grind, becoming reliant on alcohol and absent to his family. Joe Layton is impressive in his dual role of smarmy know-it-alls that fail to listen.
The central relationship is between siblings Gregor and Grete who start as dreamers before they get swallowed by sorrow. In this telling their relationship has developed and we see them exploring a deep but twisted connection. As the aspiring violinist, Hannah Sinclair Robinson is childlike and bright whilst Felipe Pacheco is desperate and anxious in all stages of his character – his stillness is feared as much as his jarring contortion and crawls. Under Scott Graham's direction he climbs the walls and swings from the light – almost literally a fly on the wall, taking swat after swat.
Long sections of dialogue form the piece. At times there is fun wordplay and riddle and anecdotes of men with drooping lips, but at others, sentences are sucked into the vastness of the space. Pacheco's manic monologue as he relents to his metamorphosis is fantastic; "these walls would wail" he cries, as the string underscore gets increasingly higher pitched, and he becomes harder to reach.
But ultimately the piece has been caught in a web. There is too much conversation and not enough of the physicality we crave from Frantic Assembly.