Frank and Percy with Ian McKellen and Roger Allam – review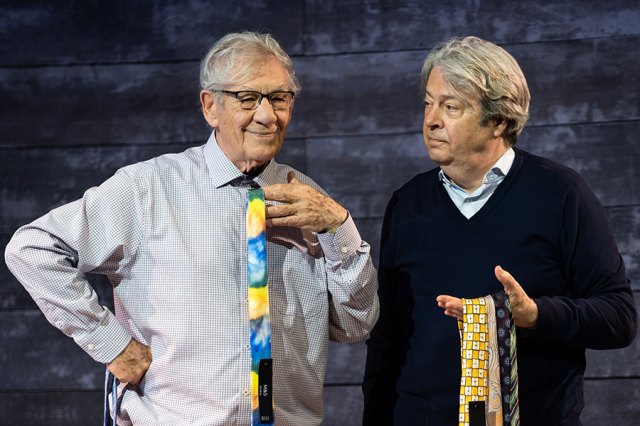 "Dogs find the people who need them", reads the poster advertising the world premiere of Ben Weatherill's new play Frank and Percy at Windsor's Theatre Royal (the play then transfers to Theatre Royal Bath). It transpires that this is scarcely a play about dogs (here offstage, barking plot devices), but instead depicts the  relationship that blooms between their owners, the titular Frank and Percy. And while dogs might find the people who need them, Weatherill is rightfully more interested in what happens when those people unexpectedly find each other.
While walking their four-legged friends on Hampstead Heath, Frank and Percy meet, adjust their hearing aids and exchange pleasantries. Their interaction is good-natured but brief as they, being both British and outdoors, discuss the weather, but when Percy returns on a subsequent visit with the gift of a spare umbrella, a connection has already ignited between the two. The lonely gentlemen, one bereaved and one divorced, find comfort in each other's company and arrive at a considerable closeness via a number of meetings on different configurations of Morgan Large's adaptable set.
This graduation of a friendship to a romantic relationship is witnessed in believable, if fragmented scenes penned with considerable wit. Very possibly inspired by a mid-pandemic fondness for everyday interactions, Ben Weatherill has united a pair of dog-walking strangers in order to consider how these most mundane of encounters could be entirely transformative. Chiefly among the successes of this script from the talented Weatherill is his depiction of its characters simply as people, with no presumption that that ought to be preceded by the word 'old'. Frank and Percy experience passion, grief, and pride with a satisfying shamelessness – riotously readying themselves for Frank's first Pride parade, suitably rainbow-clad.
Then comes a climate change subplot – which feels a little out of place. That two men should be depicted as at odds over a problem that will be experienced more acutely by the next generation in favour of any of the issues that affect the LGBTQ+ community is a puzzling choice. Both opinionated individuals with considerable life experience, it's difficult to believe that this intellectual opposition is the only sticking point in an otherwise serene relationship.
The production sees director Sean Mathias reunited with stage titans Ian McKellen and Roger Allam, having previously led the pair in Aladdin at the Old Vic almost two decades ago. Fresh from another pantomime's nationwide tour, McKellen bristles with an endearing stubbornness while Allam's portrait of a man coming to terms with the newly realised dimensions of his sexuality and identity in later life is profoundly moving. After one of the most illustrious careers in acting, it is also hugely rewarding to see McKellen play a character who is not just overtly gay but declaratively and unapologetically so in a play that centres a homosexual relationship.
Ultimately, every conceivable drop of charm is squeezed from this good idea of a play, with the end product feeling just a little protracted. While it is a reality of age, the looming drama of various medical emergencies feels manufactured to justify the end of a tensionless first act and any need for a second. But it's an appealingly comfortable watch, written with a gentle sincerity and played with considerable tenderness.