Fragments of a man: how we pulled together poetry, music and illustration to tell the story of Caleb Femi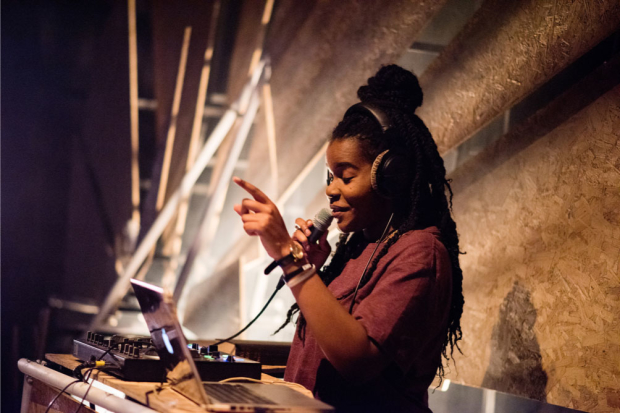 We are just about to open Goldfish Bowl, The Paper Birds' new show, at Battersea Arts Centre for a three-week run. Goldfish Bowl is a piece of theatre that aims to weave the artistry of south London poet, Caleb Femi, music producer/artist/presenter Lex Amor, and illustrator, Olivia Twist, into a piece of theatre. The project has been devised around Caleb's life story using projection, live music and spoken word. The design came from working closely with the artists, together with director, Jemma McDonnell, lighting designer, Joe Price, and video designer, Tim Dollimore. I'm used to working with devised work, however the process for this was quite different as the piece had various requirements besides working to draw together the dramaturgical content. We collaborated to find a mode of performance where all artistic contributions complimented each other, taking the audience on an aesthetic journey as well as an emotional one.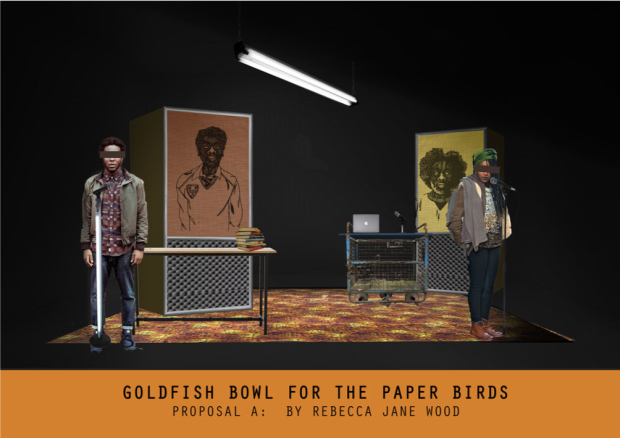 The show has gone through a variety of incarnations of how it has looked in my head as the script has shifted tonally. We discussed a mixture of naturalistic settings that the performance could settle into to help shape the show's structure: perhaps a hospital, a school or a pirate radio station. However, each place we tried to base ourselves in felt disingenuous. By the time the structure landed for our previews at Canada Water Theatre last year, it was clear that the piece wasn't told from anywhere other than where the performers were: in the theatre, with the audience – live in an informal gig-like setting.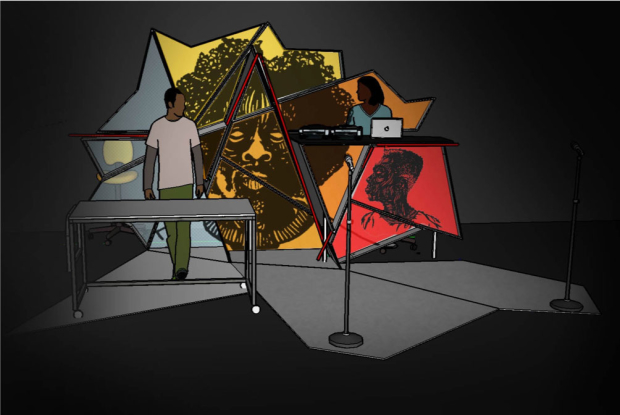 For me, once we arrived at a final script there were a few things that felt clear with regards to what the performance needed. The thing that really felt most important was the vitality of the performance – the life that beats through the poem and the fractures that disrupt and divert it. The show is essentially a series of fragments of Caleb's life that ultimately work together to become a portrait of the man we see before us. My collaboration with Olivia and Tim had to be sensitive to what we could achieve with the technology available to us and the gorgeous illustration style. As these conversations happened, the image of a broken mirror/glass became a stronger reference; jagged edges and broken fractures of images felt like something exciting. We also had perspective lines to animate through which felt really useful for breathing life into Olivia's drawings.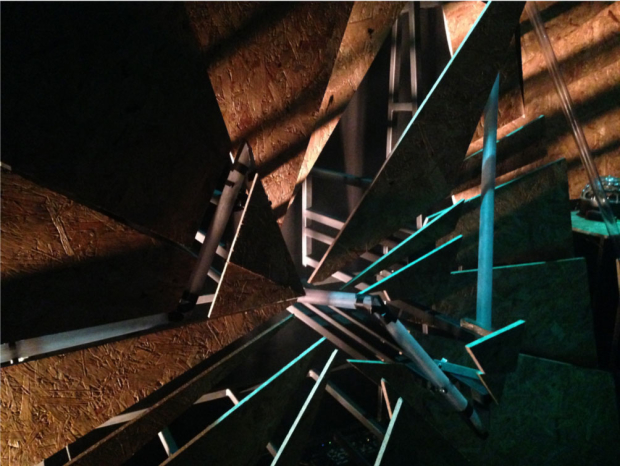 Once we arrived at what the shape of the set was, it was developed further as I found a way for the cracks within it to hide a 'heartbeat' light that traced throughout it. The heartbeat then became part of the sound world and helped punctuate the script. I have worked with lighting designer Joe Price on a lot of previous projects, so it was great to collaborate on something where the lighting was such an integral element of the design. There's a pixel mapped LED tape, in fluorescent style casing, that runs through the middle of the set. This meant we could have various effects, as well as a 'live' heartbeat, that added a different quality and dimension to the projection.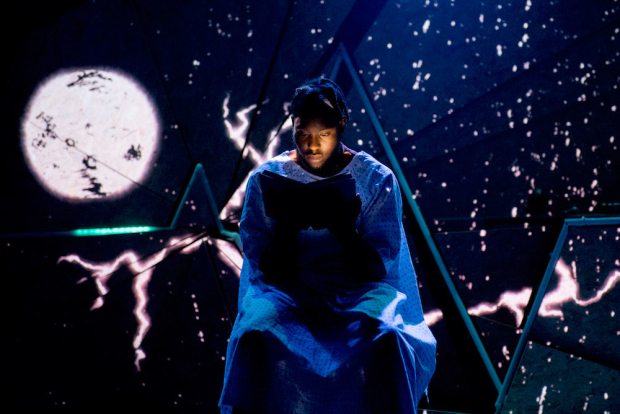 In my role as designer of Goldfish Bowl, collaboration has been paramount to the process as I have needed to work with every single person on the project. I hope I have managed this by supporting and facilitating Caleb, Lex and Olivia's artistry as best I can. I suppose it's hard to explain what the design has become, and I often feel that sketches and photos of a production are reductive of the live experience. This show is so much about being there with Lex and Caleb, in the present, enjoying the animation of Olivia's extraordinary drawings, so I can only recommend you go see Goldfish Bowl if you want to understand more.