Explore Shows from this Story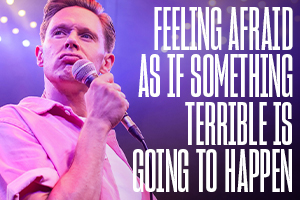 Final performance: 23 December 2023
Feeling Afraid As If Something Terrible Is Going To Happen at the Bush Theatre – review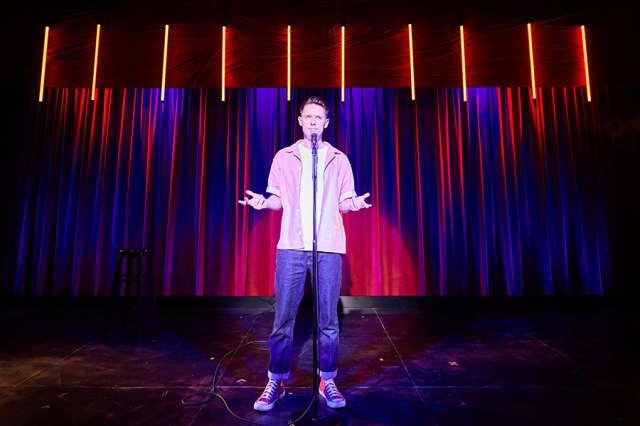 It's fascinating to see this Bush Theatre transfer of Marcelo Dos Santos's one-man play just after seeing his West End debut with Backstairs Billy, his new play about the Queen Mother and her footman.
I adored this 2022 monologue about what it is to be funny and what it takes to be loved when I first saw it at the Edinburgh Fringe. Its transfer here, still starring the magnificent Samuel Barnett, reveals once more what a fine work it is. Like Backstairs Billy it is full of humour, lines written with the whiplash timing of a master.
Where it differs from the more recent play is that it combines its jokes with a sense of real feeling, an understanding of the psychological terror of constant failure and impending annihilation. If Backstairs Billy sometimes feels like a throwback to a 1970s sitcom, Feeling Afraid is urgent, fresh and utterly compelling.
It takes the form of a stand-up routine, with Barnett's host in Comic Store shirt and red Converse, prowling the space beneath red fluorescent lights, telling us about his life. "I'm 36, and up until recently I've never been in a proper relationship. Which is absolutely fine because I have absolutely no fear of dying alone."
Barnett plays each beat of the routine that follows; then he starts again, changing names and details, honing and refining the humour. The boundaries between what is the routine – and the character's constant, compulsive need to ward off sadness and fear with comedy – and what is an honest description of his experience constantly blur. The biggest joke of all is that he has met the love of his life, who turns out to be a man with catalepsy, who might die if he laughs.
Under the sharp and fluid direction of Matthew Xia, Barnett dances gracefully through the cleverness. There are wonderful scenes: the one where "the comedian" goes to for CBT with a "nice girl from the NHS with no shoulders" and draws a smiley face on the form registering his depression because he wants to make the therapist like him; his rising panic when his boyfriend tells him about his illness. "Is that going to be a problem?"
The writing is pin sharp, but what Barnett brings to it is an undertow of almost terrifying feeling. It's a performance of enormous grace and subtlety, funny enough to represent a talented stand-up, but increasingly letting the uncertainty and fear reveal itself beneath the clown's face.
The show confirms Dos Santos as a writer of enormous talent, one you want to watch. But it's Barnett's consummate skill that makes it must-see.
Featured In This Story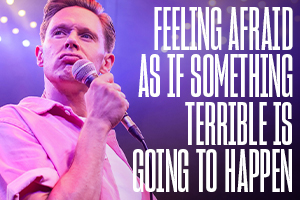 Final performance: 23 December 2023