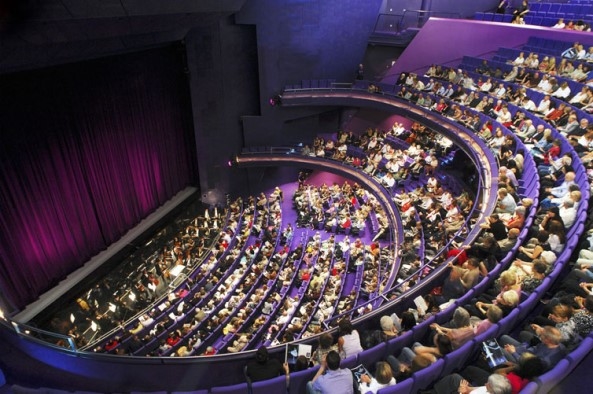 Today is a poignant one, as I am about to switch off the laptop and file my last piece for a site that I have been part of for 14 years.
So, let's start at the beginning……..in 2001 after living in Manchester for one year, I began reviewing plays for WhatsOnStage at venues like the Royal Exchange, the newly built Lowry, the Palace Theatre and Opera House, Library and Contact Theatres.
The city was new to me, having lived in London for five years. I quickly realised that Manchester was a cultural paradise and we then started to cover The Bolton Octagon and as the years rolled by, it was clear that this fine city would benefit from a microsite all to itself and WOS Manchester was born.
Dividing my time between freelancing for the Manchester Evening News, G.T, running WOS Manchester and teaching full time was exhilarating, as life was rarely dull, but it proved tiring, as I could not cover everything that was on offer in the area, although I had a bloody good stab at it, to be fair.
This did mean plenty of late nights, followed by early mornings teaching round the clock. So, we advertised for reviewers and the results meant that due to their continued dedication, we were able to cover almost everything that arrived here under the heading of theatre. That included fringe theatre, which in a world dominated by advertising revenues, was an area we were very proud to cover.
We have helped emerging theatre companies such as Monkeywood, Vertigo and JB Shorts get their work seen. We were also the first WhatsOnStage microsite and this led to expansion across the regions.
Not long after, we were given the news that we were to become WhatsOnStage Northwest. So we began covering Keswick, along with Manchester, Liverpool and eventually Blackpool. And we recruited even more writers and this is when we really began to get noticed.
Myself and the team have interviewed many actors, directors and writers over the years. Some of our favourites include: Willy Russell, Matthew Bourne, Sally Lindsay, Celia Imrie, Samantha Barks, Scott Garnham, Rupert Hill and Sarah Jayne Dunn. Sometimes, the people we talk to come back for more, we have spoken to Jonathan Harvey and Nikolai Foster many times as they always give great copy, through their honesty and passion for what they do.
I personally would like to thank every single one of our writers/bloggers for their valued input into this site, as their tireless efforts meant that we were able to bring you extensive coverage of the Northwest Theatre scene for many years. It is their dedication that kept the site thriving. A big thanks also to the venues, actors, directors and PRs who have supported us, along the way. I have made many friends in this industry.
On a personal note, Manchester and Liverpool's theatre scene is one of the best in the country and the quality and variety of the productions I have seen over the years means that the 14 years have flown by.
Highlights for me include entering the Lowry when it was not even fully finished but being wowed by imagining what this could mean for Salford in terms of regeneration. The rest is history, as now Media City proudly sits alongside it. Another highlight was walking into the Royal Exchange Theatre for the first time and seeing how grand and unique this building was. Watching a play here, is a real event – each and every time.
The Library Theatre was one of my favourite venues and I cannot wait to see what HOME looks like when it opens next year. I'm one of the few that loves the name, as the Cornerhouse is my second home and has been for about 15 years.
This kind of buzz remains and stays with you, I went to see the new Everyman Theatre in the Summer and can see why it is garnering so much acclaim, as it is truly stunning and the staff are delightful. I have been privileged as I have seen so much and it feels even sweeter to have been part of it, by encouraging audiences to take chances.
14 years ago WhatsOnStage gave a newcomer to Manchester the chance to make a mark and shout from the roof tops how great regional theatre can be. Looking back, with the various teams I have worked with – we achieved that and more. So, I thank the then editorial director and all the staff in London who helped me run with that vision.
I hope that continues to be the case and I wish all of the theatre companies and venues all the best. And a heartfelt thanks to anyone who has read our news, reviews or features and went to the theatre, as a result. Because that's why you write – to promote, provoke discussion, encourage, inform and hopefully, entertain.
Continuing to freelance in this field for the likes of Heat magazine, The Stage and others means that I will not turn my back on the North West theatre scene. I'll be doing less, sure but teaching full time and coaching teachers also keeps me busy as it is. So the freelancing has always and will continue to be a bit of a bonus.
And do you know what? After 14 years of editing at 6am before I do my day job, in lunch hours and then when I get home, I need a break. I got Tennessee Williams into Heat magazine recently so it's a case of welcoming the different challenges that come your way. And, thankfully some have come my way already.
I'll still be there witnessing some brilliant productions across the northwest and beyond. I wish Matt Trueman all the best in his new role at WOS.
And with that news, it's time for me to exit stage right.
Thanks again and see you all in the stalls soon.
Glenn Meads