Eugenius! to transfer to the West End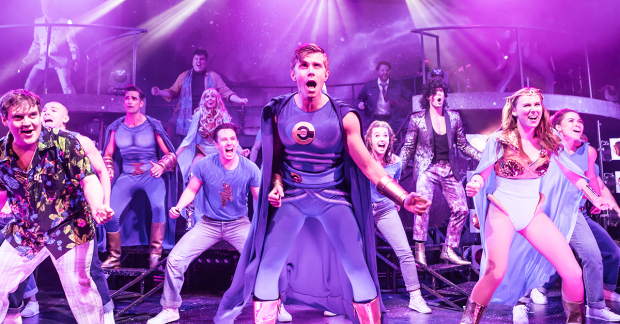 Hit musical Eugenius! will transfer to the Ambassadors Theatre later this month, it has been announced.
Ben Adams and Chris Wilkins' piece, which has had two runs at The Other Palace, follows nerdy kid Eugene who dreams of making a superhero movie. It will run for a strictly limited ten-week season from 27 October until 5 January 2019.
Produced by Harry Potter and Star Wars actor Warwick Davis, Eugenius! marks the second Other Palace production to transfer into the West End, with Heathers currently running at Theatre Royal Haymarket.
The musical has direction by Ian Talbot, assistant direction by Anthony Houghton, musical supervision by Stuart Morley, musical direction by Paul Schofield, choreography by Aaron Renfree, lighting design by Andrew Ellis, sound design by Dan Samson, set and costume design by Hannah Wolfe, casting by Jim Arnold and creative consultancy by Michael Jibson.
Davis said: "With many fans – or, rather, Eugenies – seeing it multiple times, their love for the show, the characters and earworm songs created a wonderful online community and the social media reaction has completely blown us all away. That buzz and army of supporters is now propelling us to the heart of the West End and we look forward to seeing audiences on their feet at every performance, punching the air and singing in unison, 'Go Eugenius!'."
In his review of the most recent Other Palace run, critic Alun Hood said "it feels like the next Rocky Horror but with bigger synths and ends with one of the most spontaneous standing ovations I've ever seen."
The full transfer cast will be announced soon.
From 27 October to 10 November, all seats will be priced at £25.