Equity calls for changes to casting process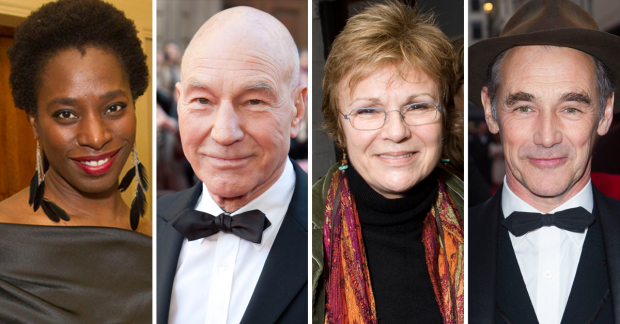 Trade union Equity has launched its new manifesto calling for a better casting process for stage and screen.
It is asking the industry to agree to a range of measures which include: increasing diversity, making audition venues accessible, telling performers when they have not got a role, giving local talent an opportunity to audition, reducing the number of recalls, and recognising the caring responsibilities of performers.
The manifesto was set out at a launch event in London this afternoon. High profile performers have backed the campaign, which has a vision of making the casting process "clear, fairer and more inclusive".
Julie Walters, who was recently made a dame in the Queen's birthday honours, said productions should make a "concerted effort" to audition local talent, whilst actor Patrick Stewart said ensuring casting is diverse is "critical for the proper survival and progress of our profession".
Mark Rylance, whose Nice Fish was nominated for this year's best new comedy Olivier, said the industry needs "practical measures" to make performance more socially diverse.
Mat Fraser, who recently appeared in Northern Broadsides' Richard III spoke of the problems disabled actors face. He said: "There's no way you can get a role if you can't even get into the audition room. Deaf and Disabled actors have to fight so hard to make it in this industry, and it's ridiculous that they should be expected to struggle just to be seen."
Other performers who have backed the plans include Maxine Peake, Rebecca Root, David Morrissey and Tanya Moodie.
Equity general secretary Christine Payne said: "This manifesto will be used by the union to seek the changes that will ensure the continued success of our creative industries."