Edinburgh review: Prom Kween (Underbelly)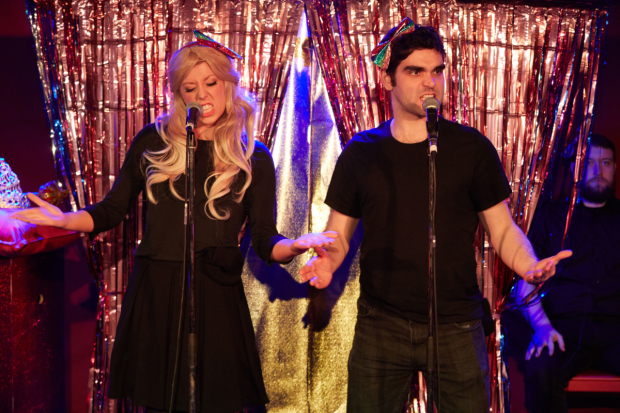 Here's a cult hit and a half – a riotous High School Musical spoof that keys into real world gender politics. Last year, much to the ire of certain classmates and online trolls, New York student Matthew Crisson, who identifies as non-binary, was crowned prom queen at La Guardia High. Rebecca Humphries turns Matthew's story into the stuff of every high school movie ever made in the campiest send-up imaginable. "Real life ain't no Disney dream," Prom Kween tuts. "Or its favourite little rabbit friend."
Humphries' book revels in its tropes. Resident mean girl Lexi ("your girlfriend's worst nightmare, but your dad's wet dream") should be a shoe-in for the spangly tiara. She's got the Disney blonde curls, the Grease-pink cardie and the hench, jock boyfriend to boot – not to mention a mean streak so acidic it could strip paint off your car. Matthew meanwhile, played by four performers, both male and female, is your classic school hall outsider; a sweet kid struggling for a sense of self, locked in the girls' loos with his geekie BFF Binkie.
This is an all-knowing Cinderella story – with William Donaldson's Ru Paul as its fairy godmother figure. Packed to bursting point with pop references, so that Mean Girls, She's All That and Dirty Dancing all get big nods, Prom Kween goes hell for leather at its laughs and its high hit rate comes at the expense of any emotional engagement.
In its current state, practically held together with stickyback plastic and string, it's more long-form skit than full-blown musical. Its score, by Humphries and Joanna Cichonska, takes simple pop structures and lays lyrical zingers over the top. Alongside sticky bubblegum pop, there are spoofs of Pete Seeger and Shaggy – the "cultural appropriation" reggae-rap being a near-the-knuckle treat – with a cameo from Cher chucked in for good measure. But it's the lyrics that do the work: 'FML', for example, is a tangy textspeak number that encapsulates the cataclysmic feeling of teenage angst.
The joke is that this mainstream sensibility collides with alternative culture; a form that follows a formula comes up against someone who breaks the mould. Campy fun it may be, but Prom Kween is actually a rather eloquent obliteration of teenage tropes and the pressure they put on kids to conform. Tucked within that is a sharp dissection of America's split personality – one that inadvertently says a lot about the state of the States today. The Land of the Free, you realise, is also the Land of the Formula. You can be whosoever you want as long as it fits an all-American ideal. That Matthew's dad is a gun-toting, TV-heckling, white supremacist allows Prom Kween to pack a political punch, and it's final waltz away into Disneyfied liberal fantasia acts as a balm against the nastiness kicking back against newly won freedoms.
Prom Kween runs at Underbelly, until 27 August, 20:35.