Did critics think Me and My Girl was a bubble or a bit pony?
★★★★★
"…Matt Lucas, was feeling a bit uncle Dick and couldn't go on. Happily, there was a diamond geezer, Ryan Pidgen, in the company who was a bit light on his plates of meat and stepped in so the show could go on."
"…Pidgen does an excellent job – there was little evidence that here was someone stepping into the role at the last minute. He's helped immeasurably by Alex Young as Sally… She has a shimmering presence that beautifully complements the rather doltish Bill."
"Caroline Quentin's battleaxe of an aunt… offers excellent support, revealing a rather decent singing voice in the process. The ever-reliable Clive Rowe as the benevolent family friend also enhances proceedings."
"Perhaps the real star of the evening is musical director, Gareth Valentine, who has given Noel Gay's songs a bit of a make-over. "The Sun has Got His Hat On" is updated from a jolly music-hall number to a Latin American extravaganza, with the chorus rumbaing and tangoing across the stage – great choreography from Alistair David too."
"This is a stormer of a production, fizzing with laughs and with a genuine warmth at its heart."
★★★★
"In truth, Me and My Girl is a work that gets by on easy charm… It's slight, with considerable longueurs and at least half a dozen unmemorable tunes. Evans doesn't quite solve these problems but paints over the cracks spectacularly."
"Lez Brotherston's design maintains a sense of tradition in the most imaginative way possible – a cyclorama of old London Town in miniature; a magnificent 2D-model of the stately home which, clearly, has been modelled on Highclere Castle, the filming location of Downton Abbey."
"Caroline Quentin is commanding as the Duchess… Meanwhile the ever-fabulous Clive Rowe does a rather moving transition from silly old sod to tender war hero…".
"…Evans does manage to elicit some depth, and there's a certain us-and-them resonance as the genteel Hampshire relatives slowly come round to the parvenu who has transformed their lives."
"This is soft-hearted knockabout stuff and Evans knows the limitations of his material. But boy, it's fun – a cheeky tonic for troubled times."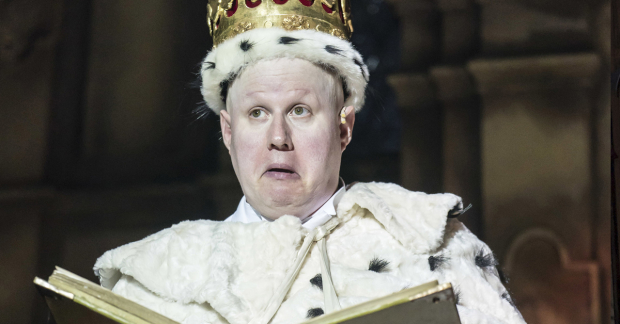 ★★★★
"Alex Young, who plays Bill's sweetheart, Sally, brings sincerity and affection to their relationship. Her voice is clear and sweet, just as Sally should be. She too has excellent comic timing… Caroline Quentin… comes close to stealing the show."
"Me and My Girl is not a sophisticated musical: its fish-out-of-water plot is entirely predictable and the reference to My Fair Lady doesn't muddy those waters at all. Although Rose and Furber's songs are catchy, they're sometimes rather pedestrian.
"This production is directed with gusto, although it loses pace at the start of the second act. Lez Brotherston's country house set has a clever forced perspective to make it appear even grander and larger than it is."
"The only real problem is the sound: the orchestra is so loud – to combat the mighty noise of so many sets of tap shoes, presumably – that the vocals get rather lost in the mix. Everyone is forced to sing at full pelt all the time, which robs the show of some texture. But its heart is so firmly in the right place that it is impossible to be too grouchy about such things."
★★★★
"[Daniel] Evans… is an unashamed populist but then, surely, Me and My Girl is the populists' populist musical. The music by Noel Gay, which includes "The Lambeth Walk" and "The Sun Has Got His Hat On", is earworm heaven."
"There is stardust on this production from the start. The set, by Lez Brotherston, invokes a romantic vision of the London skyline that gives way to a pop-up but impressively crenellated stately pile."
"Ryan Pidgen is a terrific Bill, bumptious, boisterous and, it seemed to me, having the time of his life. He is buoyed up by a terrific ensemble cast led by Caroline Quentin who is terrifying, in a good way, as the duchess."
"…the plot is really only the fig leaf for a good show and this is certainly that, with delicious little extras sprinkled throughout both the music, the work of supervisor Gareth Valentine, and the choreography by Alistair David."
"If there are moments in the first half that look a little too stagey, the second is as light as an ostrich feather. It ends with a flourish and almost too soon with the conductor Valentine popping up to play the washboard."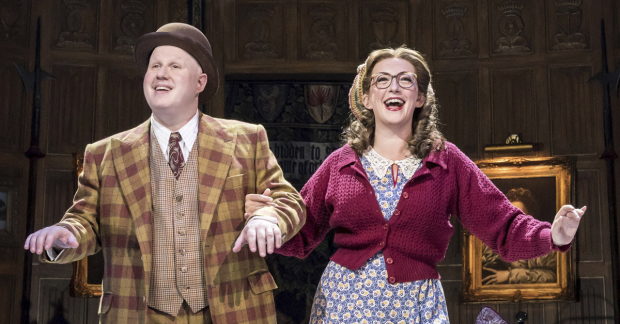 ★★★★
"Daniel Evans' latest big summer musical has a lot in common with Chichester Festival Theatre's 2016 hit Half a Sixpence."
"Pidgen is brilliant – funny, slip-free and extraordinarily at ease as he leads a posse of pearly kings and queens in a big and brassy "Lambeth Walk"."
"…there is zero drama. You don't believe for an instant that Alex Young's cosy yet courageous Sally Smith will leave Bill, or that Caroline Quentin's stern and surprisingly operatic Duchess isn't a rebel and a romantic underneath."
"…Fry's saucy comic flourishes are matched by witty choreography… Lez Brotherston's impressive design moves between a smoggy, silhouetted London and the imposing turrets of Snibson's ancestral pile…"
"Musical director Gareth Valentine pops up during the encore playing the washboard. But his presence is felt throughout in the playfully augmented arrangements."
"Whether its intended star has got his pork pie hat on or not, Chichester Festival is determinedly coming out to play."
★★★
"…the last-minute first-night no-show of leading man Matt Lucas… stacked the odds against this show from the start… Noel Gay's 1937 musical isn't going to be met with the same rapture as when Stephen Fry revised the book to name-making acclaim in 1985."
"It's essentially a case of great songs – "The Lambeth Walk", "The Sun Has Got His Hat On" – shame about the story…"
"Daniel Evans directs with the slick efficiency he customarily brings to big musical productions and there's some cherishable choreography from Alistair David to get the cast hoofing with abandon (just watch Quentin when she puts her tap shoes on)… Without Lucas it's impossible to guess how the central pair really measures up."