Dial M For Murder (tour – Colchester)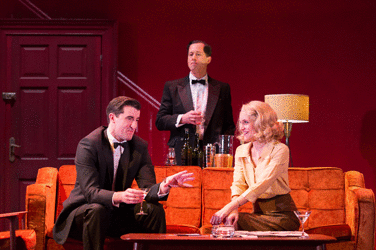 The centre of the stage has sitting-room furniture appropriate to a 1950s flat in a converted large town house in one of the better parts of London. A circular opening above, round which an enormous transparent and flame-coloured curtain is manoeuvred, is echoed by a stage-floor revolve.
From time to time we glimpse a staircase in the hall outside the flat's own front-door. Our heroine is Sheila Wendice, moneyed in her own right and still settling down with her ex-tennis champion husband Tony. She's with Max, newly returned from the USA and a successful career as a writer of murder mysteries.
They have had a passionate affair, over by the time she married Tony, but ripe for rekindling. You probably know the story best through the 1954 Hitchcock film, and the programme for this co-production between Colchester's Mercury Theatre, the West Yorkshire Playhouse and Fiery Angel gives it due acknowledgment.
As with most plays of its period, there would originally have been three acts; theatres nowadays have problems with this format, leading to an overlong first half and a brisk second one. It's a pity, because in its own strange fashion, this defuses not heightens the tension.
The cast is good. Daniel Betts as Tony and Robert Perkins as the somewhat shady Captain Lesgate who he first encountered at school make a pair of suitably devious villains. Philip Cairns is Max, the writer of fictions who realises that Sheila is really what he wants in real life.
Kelly Hotten is thoroughly believable as the woman trapped between a wrong marriage and a nightmare fight fo her life. Several fights in fact, as Christopher Timothy's Inspector Hubbard ferrets for the truth of what at first seems an open-and-shut case and then develops into a race to save what may be an innocent life.
Chris Davey's lighting plan and the clever sound background devised by Mic Pool tighten our mental screws. Philip d'Orleans' staging of the prolonged second act struggle almost – but never quite – tips the audience over into nervous laughter.
Dial M For Murder runs at the Mercury Theatre, Colchester until 15 February and then tours nationally until 28 June.