Dangerous Encounter (Stevenage)
When the curtain rises on this new in-house production of Francis Durbridge's Fatal Encounter at the Gordon Craig Theatre, Stevenage it reveals one of the most extended sets ever seen on its stage.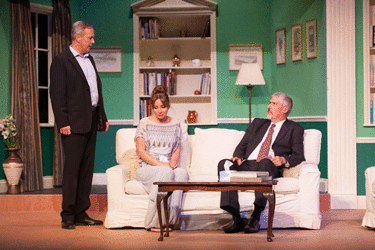 Andy Newell has created a Holland Park living-room absolutely suitable to be that of successful publisher Howard Mansfield. It also poses just a slight problem for the actors, who have to cross and re-cross it pretty briskly.
The initial dialogue exchanges follow the same pattern; director Catherine Lomax knows that modern audiences pick up on vital nuances very quickly. Mansfield's secretary is the wife of an MP with the tabloids on his tail.
Grace Kingsley is on the publishing house board and is also a close friend of Joanna Mansfield – who comes rushing in, having been mugged. The man who came to her aid is an art dealer called Mark Adler.
If you think that's all complicated, it's nothing to what happens when Grace's ex- Perry and a nasty bit of work called Rex Winter also materialise in that Holland Park mansion and its garden. And then an inspector calls…
It's all convincingly acted with Arthur Bostrom's urbane Inspector Coldwell and Euan Macnaughton's Mansfield ratcheting up the tension in their exchanges. The three women – Alexis Caley as Joanna, Claire Jeater as Grace and Angela Webb as Hilary are equally effective.
Which brings us to the villains, obvious and very possibly otherwise. Michael Dobby is Adler, very interested in one particular artwork on Mansfield's wall. You feel that Grace was wise to rid herself of Rob Pomfret's Perry – or has she?
Paul Morse's Rex is the archetypical cat's-paw; you can't help by feel just a twinge of sympathy for one of life's losers caught in the trap baited by far cleverer men. It may be because the play is an unfamiliar one, but it definitely grips its audience from start to finish.
Fatal Encounter runs at the Gordon Craig Theatre, Stevenage until 11 October.