Dame Angela Lansbury shows Blithe Spirit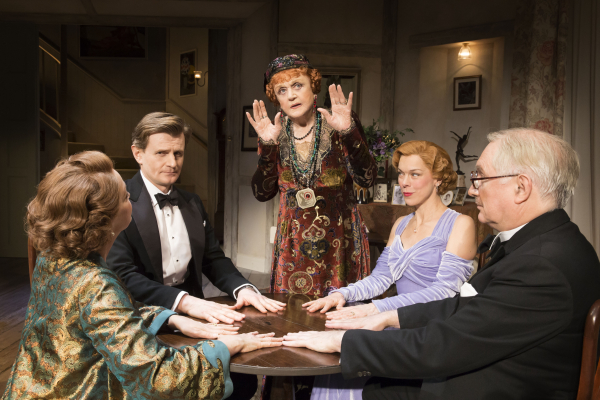 Michael Coveney
WhatsOnStage
★★★★
…Angela Lansbury returns in triumph to the West End in the same role, again directed by Michael Blakemore… I can't recall a jollier geriatric evening – the show is notably well cast in the "youngster" department, too, with Charles Edwards as the smug novelist Charles Condomine and Janie Dee and Jemima Rooper as his two wives…
There's something weird, beautiful and disturbing about this Arcati… the way she acts an eyeful of muttering I've only seen done as well by Alastair Sim or Michael Hordern… the comedy is enriched with still more ambiguity and confusion… Simon Higlett's spacious design of the Kentish wooden-beamed living room, and Mark Jonathan's lighting, deliver the right ghostly goods throughout, and in the scenic calamity at the end as Charles strikes out from all the women in his life, free at last (possibly)…
Charles Spencer
Daily Telegraph
★★★★★
… Blakemore's direction has exactly the right lightness of touch while also capturing the bracing heartlessness of this deliciously dark divertissement… Lansbury brings astonishing energy and comic panache to her performance. It is a comedy that still startles and delights… Yet it is also a comedy that makes you shiver… The great thing about Blakemore's production is that it so deftly mixes the wit and the underlying coldness of the piece… This is a tour de force that will glow warmly in the memory of all who see it. But the whole show is a treat and Blakemore's production, elegantly designed by Simon Higlett with spookily billowing curtains, splendidly captures the bracing heartlessness of the comedy… the whole production has an assured style and wit about it that the Master himself would surely have applauded.
Michael Billington
Guardian
★★★★
…it is Lansbury the audience has come to see and she gives good value. She follows a basic rule of acting by playing Madame Arcati from the character's point of view: not as a fake medium but as someone who takes her trade seriously… Edwards is one of the best comic actors on the British stage and, here, he charts perfectly the hero's zig-zag emotions… The comedy is reinforced by the excellent Janie Dee, who lends Ruth an air of steely ferocity, while Jemima Rooper's Elvira is an unusually tactile and seductive spook. But it's the sculpted dialogue that gives most pleasure and it's a sign of Coward's theatricality that a simple line such as Ruth's statement about Elvira… can still raise the roof. For me the play's the thing rather than the return of a popular star.
Paul Taylor
Independent
★★★★
… The 88-year old Murder, She Wrote star, theatrical legend, and newly appointed Dame of the British Empire may not have trodden the boards in London for 40 years but the public has firmly (and understandably) decided to accord her the status of National Treasure. Her every exit and entrance in Michael Blakemore's wittily assured production is greeted with a warm round… Highly skilled comic actresses… have come to grief in this role by overdoing the oddball qualities… Lansbury's Madame A is a quivering, deliciously erratic blend of bohemian lady novelist and girl guide… Charles Edwards beautifully captures the supercilious suavity of the novelist… this is a cold-blooded, arguably misogynistic comedy. But it's warmed by the presence of Lansbury who, at the standing ovation, looked to be a very happy medium.
Quentin Letts
Daily Mail
★★★★★
Dame Angela Lansbury was born in 1925… That makes her 88, not so rare an age these days but still unusual for someone taking a leading role in an expensive West End show… Does she convince as this dotty old cabbage? Of course. She is perfect. Makes it look effortless… Dame Angela's first return to the London stage for 40 years provokes applause at her entrances and exits… A man in the stalls whooped her for completing her first scene. Had he expected her to keel over mid-line?
Instead of patronising her for making it to 88, let us hail her vocal projection… This play, which in recent years has sometimes been overvamped, holds up well when played in a properly blithe spirit… Even without Dame Angela, and despite the steep ticket prices, this would be a top-class show. With her, it is a West End event.
Henry Hitchings
Evening Standard
★★★★
Angela Lansbury's return to the West End, after an absence of nearly 40 years, is something to treasure. Vocally deft and possessing a natural grandeur, she delights in the juicy role of eccentric medium Madame Arcati… Whenever she's onstage there is a happy mix of substance and scene-stealing: she captures the character's self-importance but also her frivolity… Jemima Rooper is impeccably irritating as Elvira, the most seductive of ghosts… When the coldness of the central relationships is apparent, the humour hits its mark. True, the first twenty minutes are underpowered and there's a lull in the second half. Yet while this certainly isn't Coward's best play, Michael Blakemore's production is nimble. Inevitably it's Lansbury who is the big draw, vivacious in defiance of her age. Her fans will be entranced by the charm, balance and precision she brings to such a well-known role.