Cinderella (Colchester – panto)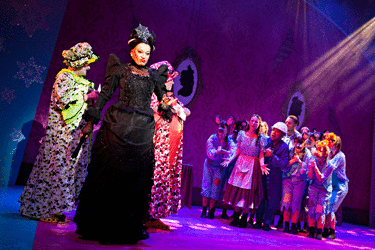 Orphaned Cinderella (Sarah Moss) not only has those stepsisters to plague her, but she also has the stepmother from hell. Basienka Blake is in full-blown villainous mode as Evilla, swishing around in bustled black silks, refusing to remember Buttons (Dale Superville)'s name and reducing Cinders to tears.
In an interesting role doubling, Laura Curnick plays both the Fairy Godmother and Dandini. Simon Pontin is the pomp-weary Prince Charming and his romance with the girl he meets when hunting flows naturally both in Fine Time Fontayne's script (based on the Joel Horwood and Morgan Lloyd Malcom version) and Daniel Buckroyd's production.
You really feel for Moss as a personality, not just as a heroine to whom things happen – this Cinders knows how to make the best of a bad job and anyway has the support of a whole forest-full of furry friends (hard-working members of the youth theatre) who she nurtures in return.
This means that Somerville's disappointment when the brotherly nature of her affection is made plain. Cinderella's transformation into a princess meet for any ballroom earns a deserved audience gasp; she leaves Stoneybroke Hall in a fantastic coach drawn by an albino relation of the War Horse puppet.
The singing and dancing make their mark, as do the traditional slop and ghost scenes; the former has the sisters preparing for their big night out and the latter adds Evilla to the mix. Ignatius Anthony and Tim Freeman play Frou Frou (pet-name Fluff) and Trifle (known as Triff), though it's Blake who really dominates.
Cinderella runs at the Mercury Theatre, Colchester until 11 January.