Cast: Totally Tom in Waiting for Godot, Bartlett's Intervention, Nuffield's Tonight at 8.30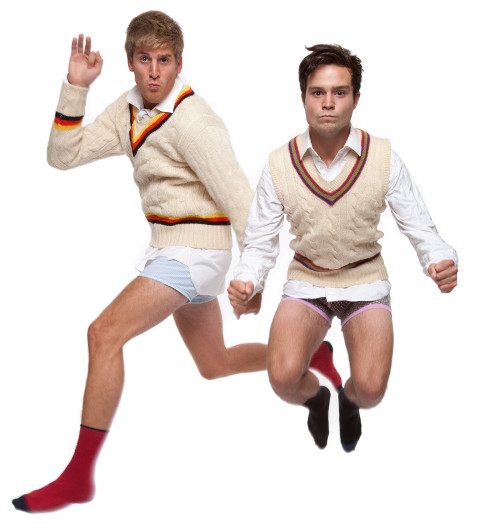 Comic duo Tom Palmer and Tom Strallon, together known as Totally Tom, will star as Vladimir and Estragon in a "re-imagined" version of Samuel Beckett's Waiting for Godot at the Arcola Theatre in May.
The two Toms rose to prominence when their video 'High Renaissance Man' went viral, and have since been nominated for Best Newcomer at the Edinburgh Comedy Awards. They made their television debut on Channel 4's Comedy Lab.
Other members of the cast include Michael Roberts as Lucky and Jonathan Oliver as Pozzo.
Directed by Simon Dormandy, Waiting for Godot runs at the Arcola Theatre, Studio One from 7 May to 14 June 2014.
---
Mike Bartlett's new play An Intervention, which premieres at Watford's Palace Theatre next month, will star Rachael Stirling and John Hollingworth.
The play centres on two friends, one of whom went on the anti-war protest, the other of whom stayed at home and watched TV.
Bartlett's previous plays include Love Love Love (UK tour and Royal Court), and adaptations of Medea (which starred Stirling in the title role) and Chariots of Fire.
A co-production with Paines Plough, An Intervention runs at the Watford Palace Theatre from 19 April to 3 May 2014.
---
Casting has been announced for Blanche McIntyre's rare revival of Noël Coward's Tonight at 8.30, which runs at the Nuffield Southampton from 24 April to 24 May 2014 ahead of a UK tour.
Tonight at 8.30 comprises a collection of nine one-act plays, encompassing the "full kaleidoscopic range of Coward's writing."
Throughout the run at the Nuffield and the tour there will be opportunities for audiences to see all nine plays in special 'triple bill days'.
The full cast is: Kirsty Besterman, Daniel Crossley, Amy Cudden, Shereen Martin, Olivia Poulet, Gyuri Sarossy, Peter Singh, Orlando Wells and Rupert Young.