Britain needs to take physical theatre seriously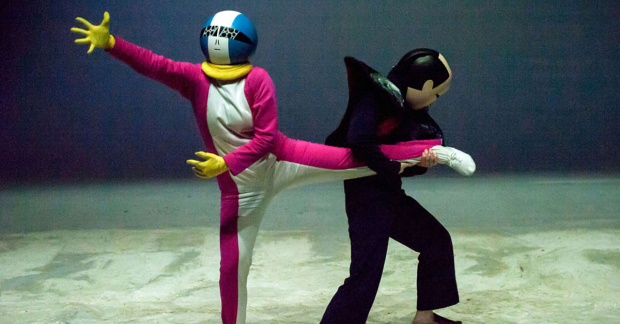 It is the capital's oldest performing arts festival – older than LIFT, older than Dance Umbrella. The London International Mime Festival, which opened last night, is celebrating its 40th anniversary this year.
In that time, it has had an enormous impact on British theatre. When Joseph Seelig founded the festival in 1977, just as the London fringe was finding its feet, this sort of work didn't have a home. "There wasn't any visual theatre," he told me last year. "Nor any alternative theatre from overseas."
That's not the case today. British theatre is more international and more visual than ever. As Improbable's Phelim McDermott put it, "If you look back through any new movement in theatre, you can see its beginnings in the mime festival."
This country doesn't take visual or physical theatre seriously
It's a festival I love and every year, it throws up things I'd never thought possible – giant robot arms chucking human dancers around, plastic bag people blown to life by electric fans, acrobats clinging to a huge swinging stage. Without words, theatre often blossoms into something spectacular and profound. More often than not, however, the best shows come from overseas.
The festival has long had a British component (Complicite, Improbable and Told by an Idiot have all taken part), but, with the exception of circus, this country doesn't take visual or physical theatre seriously. The vast majority of such artists find themselves sidelined or, at best, infantilised.
It has to do with the work they can get. Since companies can't survive without funding and/or commissions, their identities shift according to the work they're allowed to make. Too often, such companies find themselves pushed towards children's theatre.
Take the Lecoq-trained duo Dancing Brick. Its debut was a wordless piece about language; a love story between two strangers with no common tongue. It won a Total Theatre nomination and, since then, Dancing Brick's work has toyed with complex ideas using simple images. Heap and Pebble was a clown show about climate change; two figure skaters dancing on in a world without ice. Captain Ko and the Planet of Rice used space travel as a metaphor for dementia. Their theatre is colourful and cartoonish, but critical too. They use form – and silence – skilfully.
Identities shift according to the work companies are allowed to make
When it comes to commissions, however, cutesiness tends to win out. Recently, Dancing Brick have been confined to children's shows, and they're not alone. Tortoise in a Nutshell's first show Feral looked at London's riots.Their latest, Fisk, is about a lonely fisherman. The stark, macabre style of Les Enfants Terribles has been overtaken by their large-scale family shows. Shadow puppeteer Matthew Robins has moved from Duckie and the Barbican to the Unicorn.
This isn't to denigrate children's theatre – far from it. Young audiences benefit hugely from seeing these artists. But it begs big questions about the place of visual and physical theatre in Britain; whether our theatre culture affords such artists the respect and the opportunities they deserve.
I'd argue not. For all its influence on mainstream theatre – what's War Horse without its puppets – we tend to belittle alternative practices. You see it with Emma Rice and Kneehigh: celebrated for playful family shows like 946 and The Little Matchgirl, but warded off Shakespeare and anything weighty.
Does our theatre culture afford physical theatre artists the respect they deserve?
New International Encounter have face the same fate. A brilliant collaborative company rooted in clown, their shows tackle serious themes. With their European partners, they've made work about the refugee crisis, statelessness, Islamic extremism and the continent's history; all difficult subjects handled lightly. Back in Britain, by contrast, their recent commissions include Hansel and Gretel and Beauty and the Beast. Such stories can, of course, tackle serious themes, but they're not given a shot at serious audiences.
As the London International Mime Festival marks 40 years, it's worth looking at what value we place on the work it showcases. Visual theatre isn't just for January. And it isn't just for kids. It's time we took it seriously.
The London International Mime Festival runs at various venues across London until 4 February.