Brief Encounter With … Home Sweet Home director Tom Wright
A group of some 8 or 10 people sit round a long table sharing their opinions and observations about a visit they've just made to a care home. When the time comes for their lunch break, the tall young man who has been leading the discussion reminds them that the afternoon session starts with practising Bollywood dancing. He is Tom Wright, the director of Home Sweet Home, they are the cast, and this is clearly no ordinary play, no ordinary production.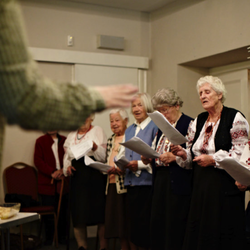 Home Sweet Home is a joint production by Entelechy Arts and Bradford-based Freedom Studios which is where the rehearsal is taking place. In the course of 2014 it will be performed in London, Stockton-on-Tees and two runs in Bradford. The first of these is at the Ukrainian Centre next month. As the cast scatter for lunch, Tom explains to me the genesis of Home Sweet Home:
"The project's been brewing for over two years now. Deborah Dickinson, the Creative Producer of Freedom Studios, was very fired up about the way we reduce older people to stereotypes. She got together with Entelechy Arts in London and the two decided to make a big piece exploring the question. They started lots of in-depth research, interviewing people, going into homes, and then brought in Emma Adams who's a brilliant writer – and we ended up with this play which tells of what it's like to go into a home and challenges the idea that that's the end of your life.
People kept on saying to us during the research, 'I'm just waiting to die,' and we went, 'How do we take that and make a real fun night out with Bollywood dance routines, amazing singing, plate spinning and circus skills?' Actually we haven't decided exactly what yet – it might be plate spinning or juggling or escapology acts – but there's definitely magic. We've got the magician coming tomorrow."
So the idea is that the audience should have a fantastic night out, but be aware that it has touched on darker things in our society. During the conversation Tom several times recurs to the idea that simple preaching or over-emphasis on the sad and gloomy often has less effect on an audience's thinking than an entertainment that raises social issues among the fun.
When I visited, it was the professional cast's third day of working on the project. Home Sweet Home will be performed by seven professionals, eight volunteer amateurs from Stockton, Bradford and London (who will stay with the production for all venues) and a local choir of about 12 people who will just appear at Bradford. How is it balanced between the professionals and the community actors?
"The idea is that the community chorus tells the story – they are our jokey flippant guides and narrators. Then the professional cast deal with the more intense emotional parts. The chorus do lots of magic tricks as part of telling the story and there's a sort of missing character in the play – about the system pressures that are on the workers in a care home.
Emma hit on the idea that the manager of the care home has a filing cabinet that she drags around with her and out of that come various things that she has to do. She might have to do juggling while running the home, for instance! We're challenging our cast. There's nobody who at this stage can say, 'Yes, I know I can do all the things in this show.' Everybody has to operate outside their comfort zone."
Finally we talk about the choice of the Ukrainian Centre as a venue. Tom explains that it's not site-specific in the sense that Freedom Studio's wonderful The Mill – City of Dreams was. Then the stories were about the mill where it was staged. This time it has to do with providing a venue where people who may not go to the theatre regularly will feel comfortable. In one of the big rooms at the centre they are building what he describes as "a cross between somebody's front room and a Big Top."
Also Ukrainians – their stories, their songs – have played a key part in the creation process. And now, I suggest, at this time events in Ukraine give a particular poignancy to a play dealing in part with concepts of home. Tom agrees:
"Even before all this happened, they would express a great homesickness, but in the same breath say, 'But, of course, the home I long for no longer exists.' This became a sort of theme. We took a lot of people from Entelechy – of Caribbean origin or born in the Caribbean – to visit the Ukrainian Centre. They took it in turns to sing each other songs and tell each other stories – and by the end of it everyone was in floods of tears. There's an exchange in the play between a Ukrainian and a Caribbean that's totally born out of that experience."
Home Sweet Home is presented by Freedom Studios at the Ukrainian Centre, Bradford, from 1-5 April. The production will return in autumn to Bradford (15-20 September), Albany Theatre, Deptford (23-27 September) and The Arc, Stockton-On-Tees (30 September-4 October). For further information http://www.freedomstudios.co.uk/