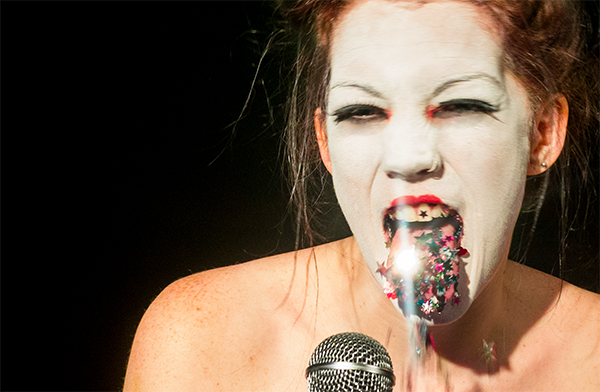 From Beardyman to Rahzel, most of the 'big names' in beatboxing are male, but in her show devised with The Paper Birds, Grace Savage proves that gender is irrelevant when it comes to vocal manipulation.
Blind takes the audience on two parallel journeys through time, one following the progression of vocal manipulation through the ages, from early Indian techniques right through to the current day scene of battles, jams and a virtual community of artists. The other follows her life, the way she is influenced by media and the news and her relationship with her mother and others around her.
These explorations are interspersed with displays of the beatboxing talent that won Savage the title of UK Beatboxing Champion two years in a row, including the use of a loop box which really made the hairs on my neck stand on end.
Yesterday I was left disappointed by the drab retelling of a showbiz legend's life story, but through pitch perfect structure and imaginative stylisation, Grace Savage and The Paper Birds have created an engaging, touching and most of all, thoroughly entertaining account of this talented young lady's life.
Blind runs at the Pleasance Courtyard until 25 August
FOR MORE ON EDINBURGH 2014 VISIT WHATSONSTAGE.COM/EDINBURGH-FESTIVAL
Check out our video with Grace Savage explaining her show in 60 seconds: