Beauty and the Beast (Theatre Royal, Stratford East)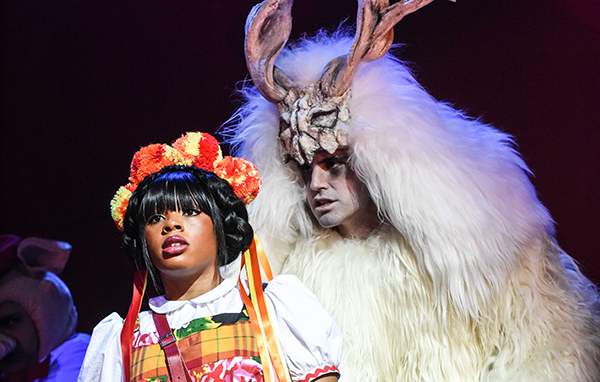 Almost, but not quite, up to usual standard, the Stratford East panto, directed by deputy artistic director Dawn Reid, is still the homeliest, and most home-grown, seasonal show in the capital. And it's housed in the perfect panto theatre, the intimate red Victorian jewel that is a complement to the other great home of East End panto, Frank Matcham's glorious, enormous Hackney Empire.
Paul Sirett's book is a digest of familiar ingredients, propelled by the immigrant "Feronian" family of indigent but colourfully costumed puppeteers – daughter Belle (Helen Aluko), her dad Marcel (Minal Patel) and her Aunty Gisele (Michael Bertenshaw) – finding work in a sweet factory (also a sweat factory) in Stratenford, Hingerland.
Somehow, we find ourselves in the Beast's palace, where an extravagantly camp old witch (pouting, hilarious Antonia Kemi Coker) and her sidekick Prunella (skilfully bolshie Allyson Ava-Brown) – the two of them are gloriously got up like Grace Jones and Bjork – have destroyed all the books in the library: Belle joins a band of disenfranchised, story-less characters including Peter Pan – who is played by an astonishingly acrobatic blind American performer, Amelia Cavallo – Piggy, Pinocchio and Baby Bear.
The palace, and the sweet factory, is another brilliant design by Jenny Tiramani (costumes by Harriet Barsby), a grey Dickensian workplace transformed into a pop-up story book with paper chandeliers, hidden doors and various nods to Disney, including dancing cutlery on the dinner table and a big furry white Beast (Vlach Ashton) with antlers.
The music and lyrics are by the promising duet of Wayne Nunes and Perry Melius, and they do the job very well, supported by a musical trio in the pit led by "Uncle" Ian McGregor. Stratford's Beast, of course, complying with PC rules of inclusivity, is a pain as a Prince, so ding dong Belle embraces the strange and unfamiliar;
The matinée I attended was signed, accurately and sensitively, at the side of the stage, and Bertenshaw's dame was particularly adept at playing off, and with, the signer, who became in effect an additional member of the cast. I've never seen this done before, and it was a delightful bonus.
Bertenshaw himself is one of my favourite current dames, and he's subtle and undercutting, bit of a moaner, always masculine, vaguely resembling Ian McKellen, making do with minimal material, and all the funnier for pretending that he doesn't look ludicrous even when curiously garbed in big black Afro hair-do and tragedy queen robes, as if bidding to usurp Theda Bara as Cleopatra.
Beauty and the Beast is running at the Theatre Royal Stratford East 17 January 2015.