Beauty and the Beast (King's Lynn)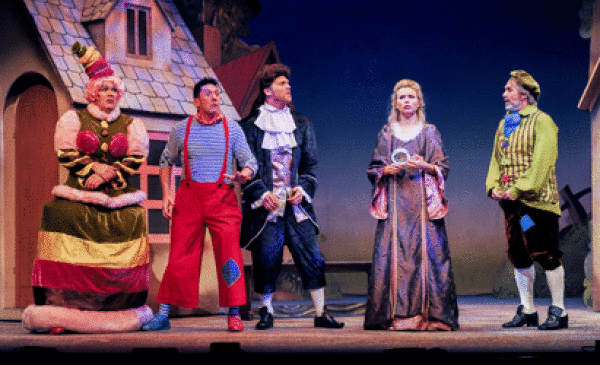 Over the past few years, Chris Jordan's dedicated pantomime company has been producing the Christmas shows at the King's Lynn Corn Exchange. They're usually good value as a family show and "Beauty and the Beast" proves itself a worthy successor.
This has a French setting, with Beauty's father Jean Jacques (Steve Pinder) accepting hospitality in a strange château but stealing a single rose for his daughter. The Beast (Darren Day), of course, began life as Prince Gallant – but didn't quite live up to his name. But the Beast does, when he demands of Jean Jacques that he send in his place the first thing he sees on his return to the village.
Beauty (Joanna Sawyer) has a good nature as well as good looks and insists that her father keeps his word. In the meantime, the very French Fairy Formidable (Chlöe Hart), the Prince's housekeeper Dame Derrière (Ian Marr, who also directs and has a tendency towards the tricoleur in dresses) and son Potty Pierre (John Pritchard) all take a hand in the goings-on.
If you have a good fairy in pantomime, it follows that you have to have a wicked one. Here it is cackling Malevolent (Georgina Sutton) who transforms prince into beast – and earns an ever-increasing barrage of boos and cat-calls in the process. James Cleeve leads the band, tucked up at balcony level.
Adam Scown's choreography has verve and is well put over by four older dancers and an enthusiastic team of juveniles. The audience thoroughly enjoys the kitchen scene, with plates hurtling down two chutes and crash-landing with the most satisfactory of breakages. The transformations are cleverly handled.
"Beauty and the Beast" runs at the Corn Exchange, King's Lynn until 31 December.