Bat Boy: The Musical – in rehearsals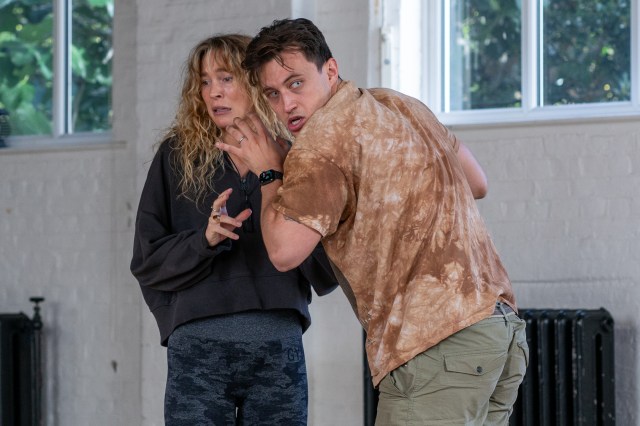 Exclusive: Rehearsal images have been released for Bat Boy: The Musical, which will be staged in concert at The London Palladium on Halloween.
The cult classic, featuring a book by Keythe Farley and Brian Flemming and a score by Laurence O'Keefe, follows Edgar, a half-boy/half-bat creature who is discovered in a cave in a rural American town. It explores themes of themes of prejudice, fear, acceptance and the consequences of othering.
The cast includes Jordan Luke Gage (Bonnie and Clyde) as Edgar, Victoria Hamilton-Barritt (Hex) as Meredith, Trevor Dion Nicholas (Next To Normal) as Dr Parker and Jodie Steele (But I'm A Cheerleader) as Shelley, alongside Tosh Wanogho-Maud (Ain't Too Proud), Glenn Adamson (We Will Rock You), Kyle Birch (A Strange Loop), Gillian Kirkpatrick (The Bridges of Madison County), Shane O'Riordan (Miss Saigon), Jenny O'Leary (We Will Rock You), Rumi Sutton (Hex), Thomas Vernal (The Book Of Mormon) and Edward Flynn Haddon (13).
Bat Boy: The Musical is directed by Dean Johnson (Once), with musical director Paul Schofield, set and lighting designer Andrew Exeter, video designers Dan Light and Andrea Scott, assistant musical director Liam Godwin, production manager James Anderton, sound designer Aidan Jones, make-up artist Katie Allday and movement director Rhys Wilkinson. It is produced by Chris Steward and Shanay Holmes for West End Musical Productions, who also serve as casting directors for the show.
Watch Gage perform a number from the musical as Edgar in our exclusive video:
Tickets are on sale below.