Barber Shop Chronicles at the Roundhouse and tour full cast announced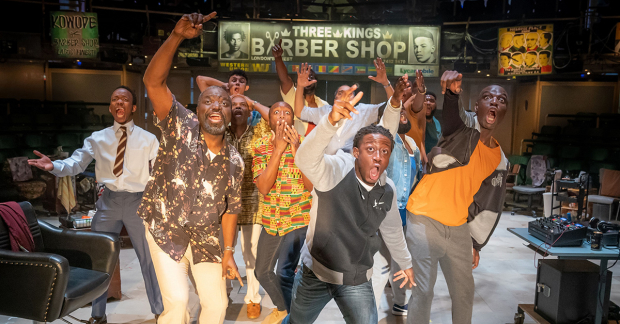 Casting has been announced for Inua Ellams' hit play Barber Shop Chronicles, which runs at the Roundhouse in north London and on tour later this year.
The show, which initially ran in 2017, has been touring across the world and had two sell-out seasons at the National Theatre. The piece will feature existing cast members Maynard Eziashi, Adé Dee Haastrup, Emmanuel Ighodaro, Demmy Ladipo, Mohammed Mansaray, Anthony Ofoegbu, David Webber, and incoming cast members Micah Balfour, Okorie Chukwu, Tom Moutchi, Elmi Rashid Elmi, and Eric Shango.
An accompanying programme of events will take place alongside the show's London run, featuring artists including Selina Thompson, Ruth Sutoyé, Julian Knox and the creators of the hit Hot Brown Honey. The events will expand upon the themes presented in Barber Shop Chronicles.
The show is set in barber shops in multiple continents, where men put the world to rights. In a four-star review for WhatsOnStage, Matt Trueman said: "This is a play that makes its points through acting, and a dynamic ensemble swap characters with relish."
The piece has also announced new autumn touring dates. Following its run in London the play will visit the Birmingham Rep (26 to 28 September), Oxford Playhouse (9 to 12 October), Eden Court Inverness (16 to 19 October), Edinburgh Lyceum (23 October to 9 November), Nuffield Southampton Theatres (13 to 16 November) and Leeds Playhouse (20 to 23 November).
Barber Shop Chronicles is directed by Bijan Sheibani, designed by Rae Smith, with lighting design by Jack Knowles, movement direction by Aline David and sound design by Gareth Fry.