Arts Over Borders: Tamsin Greig, Toby Jones and more perform Friel in rural Ireland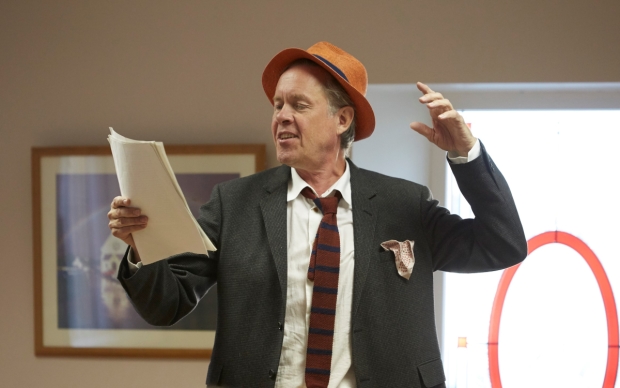 Imagine an away-from-it-all Irish holiday where you tour windswept villages and routinely stumble across West End stars. Stroll on a beach and there's Maxine Peake in mid-flow. Take shelter in a community hall and find that Tamsin Greig got there before you.
Last week was like that.
Not that there's anything accidental about Arts Over Borders, the umbrella name for the sixth Happy Days International Beckett Festival in Enniskillen and the third Lughnasa FrielFest that criss-crosses two countries, County Derry in Northern Ireland and County Donegal in the Republic.
Both events are the brainchildren of Sean Doran, a softly-spoken yet passionate Ulsterman who once ran the Perth Festival in Australia and in the early noughties endured two difficult years as artistic director of ENO in London (albeit with three enduring commissions to his credit: Anthony Minghella's Madam Butterfly, Deborah Warner's Death in Venice and Phelim McDermott's Satyagraha).
Doran is at home here in more ways than one. As co-author of Ireland, The Rough Guide he knows every nook and cranny of the region where he grew up, and he applies his encyclopaedic geographical knowledge to the conjuring trick of pairing project with place. Thus FrielFest celebrates the work of playwright Brian Friel by presenting his work in ad hoc performances in or around their intended locations. Most of the late writer's plays are set in the same fictional village, Ballybeg, but they all belong in Donegal and in many cases he had distinct harbours or villages in mind.
What's the secret of luring box office gold to a rural outpost? It's simple: nothing is rehearsed
This year's festival centrepiece is a run of Faith Healer, his overwhelming quartet of semi-mystical monologues, with the audience ferried by coach up hill and down dale between acts to witness each segment in an appropriate setting. It took almost five hours (including an interval barbecue by Portnoo Pier) to see Lorcan Cranitch, Tamsin Greig and Alex Jennings thread the episodes into a devastating whole. Sarah Crompton nailed it here when she described Faith Healer as "a play about doubt, a work that mines the cracks between things, that revels in the grey areas, the uncertainties, the mysteries of life". For next weekend's performances that mining task will fall to Rory Kinnear, Laura Donnelly and Toby Jones.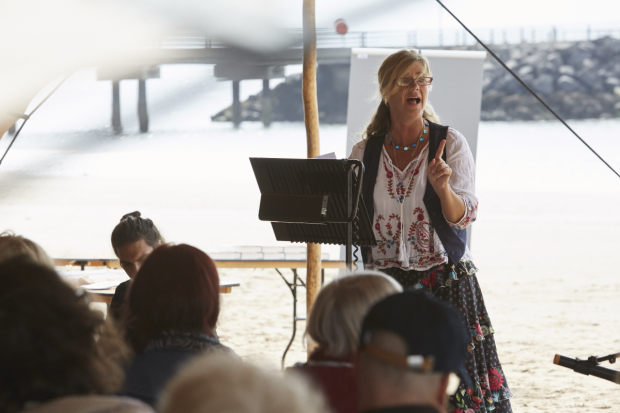 What's the secret of luring box office gold to a rural outpost? It's simple: nothing is rehearsed. There are no directors or sets to speak of and the actors carry scripts. Doran and his co-curator Liam Browne trust the talent to come prepared and deliver the goods, and most of those I witnessed in the course of a three-day sample did so in spades. The Cranitch-Greig-Jennings triumvirate brought prodigious technical accomplishment to their task, as did Stanley Townsend and Orla Charlton to their fiercely mercurial performance of The Yalta Game, performed in an old temperance hall in Moville less than a mile away from Friel's own house.
This year's FrielFest spreads its wings to include readings from the works of Homer, whom the playwright revered. Peake, Natascha McElhone and Frances Barber join Imogen Stubbs in reading extracts from The Odyssey, the last-named gifted a red-in-tooth-and-claw segment, Book 22, for her reading on Magilligan Beach in County Derry. She ate it up.
The siren call of Ballybeg will be hard to resist
The Iliad received a contrasting treatment as the Irish actor Niall Cusack delivered five lipsmacking readings from Homer's Trojan epic. "A war-torn country in which insane gods mix with men and women who never know exactly what the fighting is about", runs the preface to one translation; so it made grim sense for Cusack to perform it in different parts of Derry itself – a city famous for its own siege 300 years ago – and against the musically aggressive background of the annual Apprentice Boys' March a few streets away. As with everything else in Doran's cannily chosen roaming tour, the experience was heightened by rightness of place.
Time constraints meant I missed Living Quarters and Afterplay, not to mention Kabosh Theatre Company's fully-fledged production of Chekhov's Three Sisters in Friel's translation, but no matter. There's another FrielFest next year and the siren call of Ballybeg will be hard to resist.