Agatha Christie's And Then There Were None on tour – review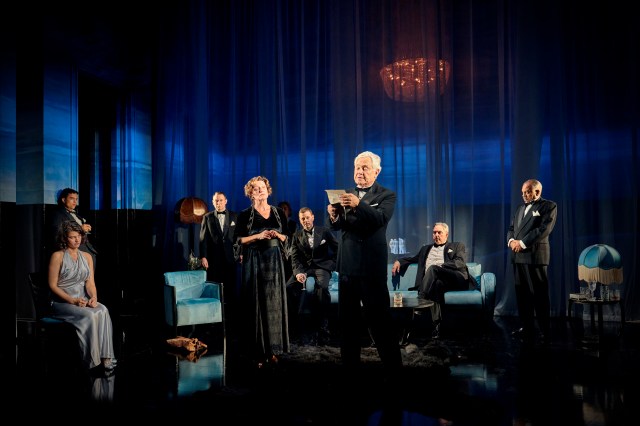 They say that And Then There Were None is the biggest-selling crime novel of all time, which must also make it Agatha Christie's most popular novel. That means that, statistically, most members of the audience probably already know who did it. Yet they buy a ticket and turn up nevertheless because the story is so darned clever and because there's a perennial fascination with seeing how a director can reinvent a familiar tale.
It's certainly one of Christie's cleverest mysteries. Ten people who seem to have nothing in common are lured to a grand house on an isolated island off the coast of Devon. Each is accused of committing a murder and, one by one, they start dying off. Trapped without hope of imminent rescue, the guests must determine who the culprit is before they're the next to be killed.
Lucy Bailey's new production was meant to start its UK tour in Northampton's Royal and Derngate theatre. However, that venue is currently closed due to RAAC, so Glasgow's Theatre Royal hosted the first night instead. It's a biggish venue, which doesn't quite suit the play's claustrophobic ambience. Nor had the cast quite managed to catch the acoustic: I had to strain to hear the words for most of the show. However, Mike Britton's designs manage to convey the sense of steadily encroaching doom, the set decaying as the murders pile up, and the performances are strong enough to evoke an atmosphere of accumulating terror.
Nicole May-Taylor had to step in at very short notice to play the additional role of female lead, Vera Claythorne. A pre-show announcement explained that they'd had no rehearsal time, and that she hadn't been able to memorise her lines for the first night, so she had to read the whole part from her book. That's obviously a pity, but without her, the show probably couldn't have happened at all, and no doubt she'll settle into the part as the run continues (or Sophie Walter will be able to play the part as advertised). Next to her, Joseph Beattie is a caddish Philip Lombard, Bob Barrett a nervy Doctor Armstrong, and David Yelland a dark-toned Judge Wargrave. Best of all, Katy Stephens chews up the scenery as the judgemental old maid Miss Brent.
It's not a challenging night at the theatre, of course, and Christie's script isn't a great work of writing. For one thing, it's a touch drawn out: detective novels need a bit of red herring padding, but it's a pity she kept quite a bit of that in the play script. Some of the performances are a little clumsy, too. May-Taylor is one-dimensionally hysterical in her regular role as the servant, Jane Pinchbeck, and Jeffrey Kissoon loses his mind a little too stereotypically as General MacKenzie.
It's great fun to watch, though, and even if you know whodunnit, it still retains the important colour of Christie's affectionate look back at a past she used to know. This is a recreation of a lost world where servants unpack guests' luggage for them, where everyone dresses for dinner, and where the sight of a backless evening gown is enough to cause conniptions in an uptight elderly lady. And that tinge of nostalgia for a vanished world is at the heart of Christie's success, perhaps every bit as much as the satisfaction of a puzzle solved. That's what this adaptation delivers; a touch of wistfulness drizzled with doom.