5 minutes with: Mikel Murfi – 'I have no fear onstage so the place can get wrecked'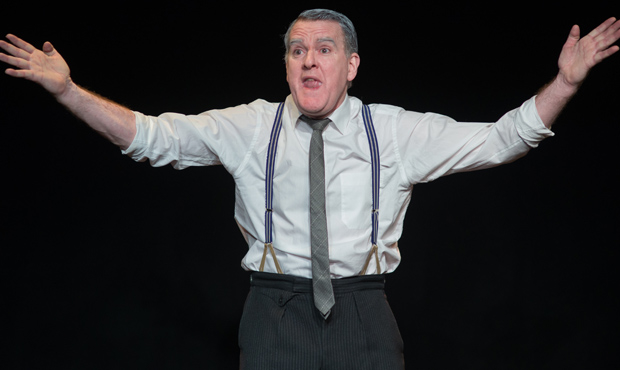 I never chose to be an actor. In a weird way, it just kept happening that someone would ask me to do a bit in a play. I did little bits and pieces but never had any ambition or formal plans to be one of those actor things. After college, Gerard Stembridge [Irish writer/director] got me a job in television completely out of the blue because he had seen some of the plays I had done while I was a student. That accident of him offering me that job kind of kick started it because then I went and looked for training.
The Man in the Woman's Shoes came about curiously by way of commission. There's a festival that happens every year in Ireland called Bealtaine and it gets older people to engage with the arts – creativity as we age – so I was commissioned by my local theatre to drive around the county of Sligo and meet groups of older folk, go away, write a play and bring that play back to show them. It was a commission that was originally supposed to do four performances and we're on 150 or something now.
I loved making that piece because I was working with people who had nothing to do with theatre so it was really fresh and fun. It's a really sweet, gentle commission and it was lovely to be spending so much time with these older folk. They're really beautiful, special people and I just wanted to make something that was vulnerable and sentimental and nostalgic and that would honour them and who they are and the lives they're living and it turns out to be this feckin' great big hit!
Plug me and Cillian [Murphy] into the electric grid and set us off at high octane for an hour and a half and do not let us stop; that was Ballyturk. I movement directed Misterman, the play that Enda [Walsh] wrote for Cillian and we had so much fun that Enda thought he might write a play for myself and Cillian and the result was Ballyturk. It was sublime and strange and frightening and terrifying and wonderful and life affirming and it was so unbelievably not what The Man in the Woman's Shoes is. That's the gorgeous thing about theatre, on one hand you can have something as explosive and as unknown and yet terrifyingly satisfying as Ballyturk and then you can have something as simple and ordinary as The Man in the Woman's Shoes.
Cillian is dynamite, he's a really lovely man, an extraordinary actor and onstage, it's a delight to be out there with him. He has a huge amount of expendable energy and although I'm older than him, I can go some way to keeping up. When that kind of energy is in the room it's just fantastic and the pair of us trade off one another really nicely. He has no fear and neither do I so the place could get wrecked once you put us out there – and it does. When we took Ballyturk to the National it became part of the ritual doing the show that the crew would gather in the wings and then I would talk them through everything that had got broken and they'd go on stage then and try and repair it before the next performance.
I have a nice variety of stuff coming up. Enda wrote an opera called The Last Hotel so I'll tour with that next year, I'm going to direct another bi-lingual show at the end of the year and the Irish choreographer Michael Keegan-Dolan is making a new work, a very Irish Swan Lake so I'm going to perform in that with him. I'm also making a new show one-person show which I'm going to devise and direct with the students in the Lir Academy [actor training school in Dublin] so I have a lot going on.
---
The Man in The Woman's Shoes is currently running at the Tricycle Theatre until 23 April.