5 minutes with: Elliot Levey – 'It was comforting being in a straitjacket during The Ruling Class'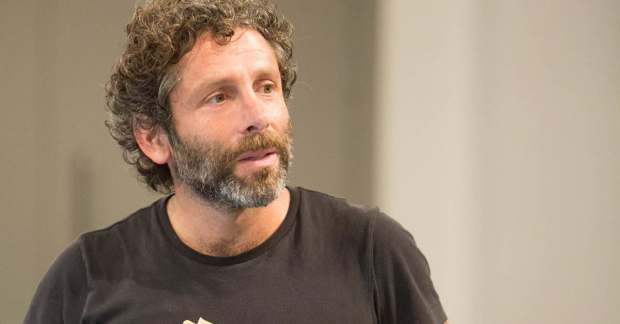 I was supposed to be a lawyer, that was the plan until I got into the National Youth Theatre when I was 16 and my mind was blown. I was going to go to drama school but I got into Oxford University so I thought I might as well do that. It was an amazing hotbed [of theatrical talent] and loads of people from my time have gone off to be directors and writers and actors.
Peter Shaffer directed me in Yonadab and suddenly I had an agent and a job while I was an undergraduate. He had re-written the play, it had flopped at the National in the mid-eighties. I think the truth is – which will piss everybody off who's not had the fluky luck to go to one of those posh universities – there was so much money sloshing about in ancient college funds that people could just say, right, I think we'll put on Macbeth, and away you go.
I think the Donmar is one of the greatest places on the planet to be an actor. The place is astonishing and Josie Rourke is quite close to being a genius. In Coriolanus [at the Donmar] I played a kind of slippery politician character which was fortunate for me as there was loads of fighting, Tom [Hiddleston] and Hadley [Fraser] had to train and train and train. I cannot think of a greater pleasure in life though than sharing a dressing room with Mark Gatiss. He is the perfect human being because he is a genius but he wears it very lightly.
The Ruling Class was bonkers, sometimes it was comforting to be in a straitjacket onstage. I remember there were nights when we'd be stood in the wings and you kind of had to not listen to the words because after a while you just thought, I'm going to jump on James McAvoy's unicycle and pedal away and never come back.
I nearly missed the Millennium New Year's Eve celebrations because I was so absorbed in Howard Jacobson's book, The Mighty Walzer. It's completely brilliant. The play is a terrific adaptation by Simon Bent and it's kind of a mid-life crisis story dressed up as a coming of age story. It's about a northern Jewish lad who hates his background and wants to get away from the north but discovers that he's a ping pong wiz.
I'm being trained in ping pong by a brilliantly taciturn man who shouts 'hobby' when I'm going back to old habits. It seems to be the biggest insult in the ping pong game, implying that you're just playing as a hobby and you're not a professional. I've got three boys and they used to say, 'Come on dad can we have a game of table tennis' and I'd be like OK, fine, but since this job I've been getting out of bed early to force them to play and I think it's been aversion therapy – they see me fishing around for the table tennis bat and they run away. The truth is though, they can all completely thrash me. In fact, my training's made me worse.
---
The Mighty Walzer runs at the Royal Exchange, Manchester from 5 to 30 July with previews from 30 June.