20 Questions: The Dead Monkey's James Lance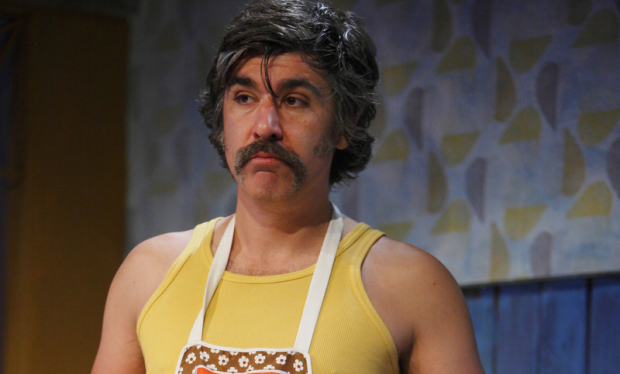 1. Where did you grow up?
I grew up in Somerset until the age of 12 then I moved to Leytonstone.
2. What made you want to become an actor?
Robin Williams in Mork & Mindy.
3. If you hadn't become an actor, what might you have done professionally?
I'd love to say a cowboy herding cattle across Montana but in reality I'm more likely to have become a hairdresser wearing cowboy boots in Yeovil.
4. First big break?
Every job's a break of sorts 'cos you never know where it may lead you. The job that started my career was I'm Alan Partridge. I was a tour guide on a London bus when I auditioned for that and it was a wonderful feeling not to have to ride around London on a daily basis anymore.
5. Career highlight(s) to date?
There's so many, I simply adored playing Bertie Wooster alongside John Gordon Sinclair's Jeeves last year. We had such a laugh with the audiences. That show is pure joy but a beast in terms of the energy and discipline required to sustain 8 shows a week for 6 months. However I've become accustomed to the fact that the tougher the challenge the greater the reward.
6. Worst ever audition?
I've been auditioning for 30 years which means that I've auditioned at Spotlight a lot in my time and never got a job there. I've been pencilled, given the knowing wink as I banana out the room, even the thumbs up but I've never landed a job there. So now when I get invited it's kinda fun in a perverse way, I once auditioned for a tough cop in a gritty police drama then stepped outside only to discover that in my blind desperation I'd chosen to dress myself as a Spanish waiter.
7. What was the first thing you saw on stage that had a big impact on you?
Gaslight by Patrick Hamilton. It rocked my world. At that time, I didn't retain the writer's name but years later I read Hangover Square and discovered that Patrick Hamilton is without question my favourite writer to date.
8. And the last?
It's gotta be Mark Rylance in Jerusalem. The man blew magic through us that glorious evening.
9. Who are your idols?
So many but my Dad is number one.
10. What's the best advice you've ever been given?
Years ago I was gonna quit acting and my dear friend Simon Taylor said, "You could do that or you could lend it some passion." Lend it some passion… How could I not? A week later I was offered I'm Alan Partridge.
11 Why did you want to get involved in The Dead Monkey?
Because the prospect scared the bloomers off me.
12 Tell us more about your character?
His name is Hank Wandaback and his first line is "Hullo sweet…"
13. Favourite moment/line in the show?
I'll tell you my favourite stage direction… 'Hank has discovered his gut protrudes less the looser his apron is tied. He experiments with stance related string tensions.'
14. Any rehearsal room mishaps?
Plenty.
15. What do you enjoy most about acting?
It's a blessing to explore different points of view with some wonderful people attempting to make something great. I adore working with the cast of The Dead Monkey, Ruth Gibson who's playing Dolores Wandaback is off the scale good and Charlie Reston who plays the vet is gonna have a fabulous career ahead of him… It's all about intention and both of theirs are golden.
16. And least?
Wig tape.
17. If you could go back in time and see a single production, what would it be?
I'd like to have seen Peter O Toole in Jeffrey Bernard is Unwell. I was very lucky to have seen Richard Harris in Pirandello's Henry IV when I was a boy and his performance still echoes within me.
18. How do you unwind?
Generally starts with a glass of red… and ends with a kiss from my gorgeous fiancée.
19. If you could swap places with anyone for a day, who would it be?
Laird Hamilton.
20. What's next?
An audition at Spotlight.