The Funfair (Home, Manchester)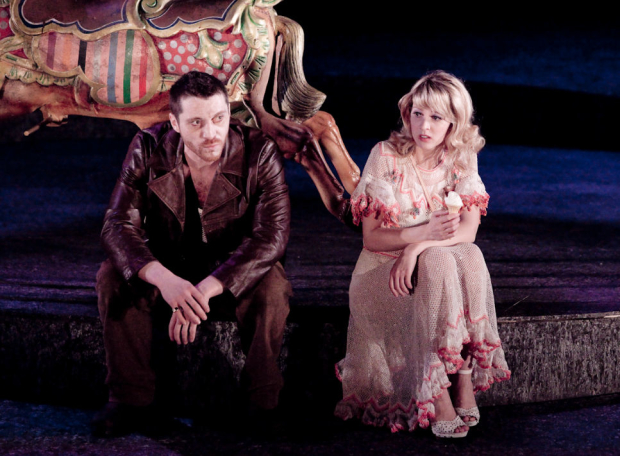 Manchester's new arts centre, Home, the largest outside London, is a robust and unfussy building; glass on the outside, concrete within. It has two galleries, five cinemas and two theatres – the larger based on the Royal Court Downstairs – and the feeling is matter of fact and Mancunian.
Its opening show shares those qualities: local boy done good Simon Stephens has adapted Ödön Von Horváth's Kasimir and Karoline, written in the wake of the Wall Street Crash, against the rising tide of national socialism in Germany. It's a stark piece, originally set at Munich's Oktoberfest, but here moved to a travelling funfair in Manchester and turned into a fable about privilege and poverty.
With its flashing lights and joyrides, its ice-cream and beer, the fair offers small pleasures for the downbeat masses; respite from the burden of day-to-day life. In its midst, unable to stop their relationship splintering apart, are young lovers Caroline and Cash (Katie Moore and Ben Batt).
She's pretty as a petal, in a gossamer dress that shows off her undies; a helium balloon in her hand. He's heavy and hangdog, brown leather jacket, slamming down a sledgehammer to test his strength. Cash just lost his job and, with it, his fiancé.
Von Horvath's play insists that we're all products of politics; that our actions stem from our situations. Caroline wonders off with an effete young fashion salesman, John Chase (Rhodri Meilir), who dismisses the idea of good and bad people. "We're all just people," he says.
The play puts that to the test, asking us to judge an array of characters: Caroline heads off with two sleazy high-flyers, out for a shag and splashing their cash; Cash disappears with his vitriolic mate Frankie Marr (Michael Ryan), a petty criminal without prospects, forever abusing his meek girlfriend Esther (Victoria Gee, superb).
Clever casting carries the show. Director Walter Meierjohann twists our assumptions and allegiances inside out. We side, at first, with Caroline over Cash – she's delicate, he's dour – but her behaviour proves the worse by far.
If we judge the two women, tarting themselves around for a few quid, Caroline's no better for swanning off with wealthy old businessman Billy Smoke (rasping Ian Bartholomew). John Chase appears gentle, well-dressed and well-spoken, but he's no better than anyone else; an ex-alcoholic on the lookout for sex.
At the heart of The Funfair is a freak show: a parade of unfortunates earning a living the only way they can. When one, the so-called Gorilla Girl, sings beautifully, it changes your view of her instantly. Its purveyors – a black ringmaster and a dwarf – are no less exploitative than the two pinstriped professionals, yet again, we judge them quite differently. At every turn, The Funfair subverts your liberal prejudices.
It's a quiet, disjointed piece of theatre, not a rattling rollercoaster, and Meierjohann leaves room for our moral reasoning. Ti Green's carnivalesque, white-face design lifts the fair out of grey concrete austerity and Max Runham leads a band of grotesques through a woozy rock'n'roll soundtrack, which suggests romance on the wane and tempers on the rise.
The Funfair runs at Home until 13 June