Review: Isabeau (Opera Holland Park)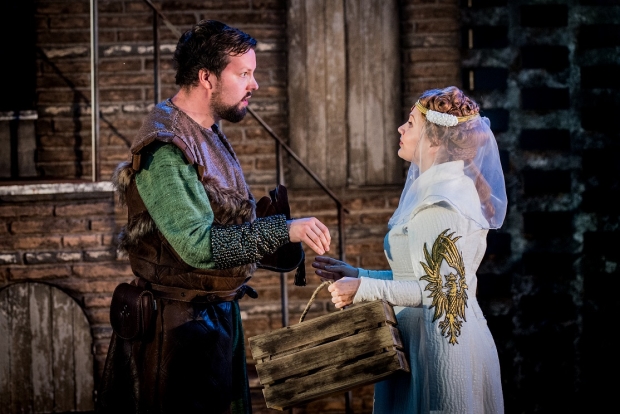 The torch-bearers for neglected repertoire on this island – Glyndebourne and Garsington, Buxton and Opera Holland Park – take big risks each time they dust off a forgotten gem. Opera is an expensive business to stage and, let's face it, some works fall into neglect for good reasons. So the trailblazers should have the right to fail once in a while.
It can be hard to judge out of context whether an opera will cut it on today's stage. Take OHP's latest, Isabeau. On the strength of a CD hearing I'd been looking forward to the London company's exhumation of Mascagni's Lady Godiva opera. It's a score that crunches along with romantic panache and delicious chromatic shifts, then once in a while throws in scented bouquets of courtly pastiche. Yum.
Only it's not quite so yum in practice. The dramatic structure is lame, the score is stuffed with more padding than you'd find in a 12-tog duvet, and as for the libretto… words fail me. Much as they did the librettist, Luigi Illica, in relating the strange medieval tale of Princess Isabeau whose father the king (Mikhail Svetlov) seeks to marry her off to any passing aristo. Alas for His Majesty, his daughter is a God-fearing virgin who refuses to marry unless it's for love. The royal patience is tried until the day he explodes and, as punishment for the girl's lack of compliance, forces her to ride naked on horseback through the city streets.
This being Italian opera there's a handsome young hero in the mix: Falco, a man she will truly love but who, since Mascagni liked a bit of suffering (cf. Cavalleria rusticana), will eventually meet an unsightly end.
Falco expresses his pure-of-heart adoration for Isabeau in language that's the stuff of cheap erotica. "The freshness of your glorious form" is more than a touch lascivious. His confidential Granny (Fiona Kimm) has to endure a lot of such verbal heavy breathing, not to mention the text's overegged foreshadowings of his blinding.
OHP has entrusted this project to Martin Lloyd-Evans, a director who's prone to both good and bad days at the office. Isabeau is one of the latter, but given the material he can probably claim a free pass this time. The challenge, to paper over the cracks of a mediocre opera, defeats him, while the higgledy-piggledy mobile settings by takis lack an overriding aesthetic, with flimsy sheets of MDF that take us closer to Spamalot than the holy grail of serious opera.
The quadruple bypass that keeps this evening from pegging out consists of a resonantly sumptuous OHP Chorus (constantly on the move to cover tracts of empty music), the ever-splendid City of London Sinfonia under the idiomatically adroit baton of Francesco Cilluffo, and two stellar leading performances.
Anne-Sophie Duprels shines like silver in the title role, be she dignified, vilified or horrified. Whether clad in gleaming white or riding sort-of naked on a chrome puppet horse, the soprano's intensity blazes unbroken with vocal brilliance and conviction. She alone is worth at least half the price of admission.
For the other half you get David Butt Philip as Folco in a performance that confirms his status as one of the leading Italianate tenors working today, of any nationality. Butt Philip's versatility is renowned – this time last year he was singing in Glyndebourne's new Hamlet opera – yet he receives insufficient recognition for the sheer beauty of his full-throated power. Star that he is, he treats this second-rate slice of Mascagni like the grandest grand opera. Don't miss him.