Iris (Opera Holland Park)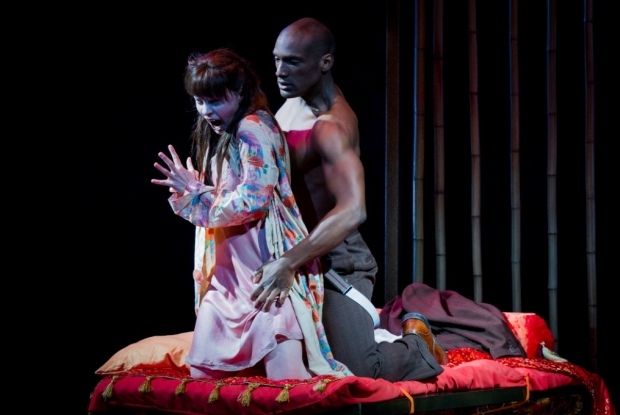 Three, five, one… The stars scarcely matter, because however many I choose Iris will still be the most repellent night I've ever spent at an opera.
Iris, an innocent young girl who looks after her blind father in 19th-century Japan, catches the eyes of Kyoto, a brothel keeper, and Osaka, his leering, priapic super-client. The pair hatch a plot to abduct her and subject her to their worst attentions. When she resists, she is put on display and offered to the highest bidder—which is where her father finds her and curses her. Iris stabs herself and is flung into the sewers where, barely alive, she is noticed but ignored by passing scavengers. She dies. The end.
It's a grubby tale made grubbier by the fact that Mascagni, he of Cavalleria rusticana fame, validates the bad guys by giving them lush, sweeping arias to sing. Michael Volpe, general director of Opera Holland Park and a fierce defender of Iris, has written "This is singing that exudes pure lust, but we are in danger of thinking love is in there amid the beauty of the music". Yet that beauty is rancid, for intentionally or not it hits the ear as an apologia for depravity.
Many things have changed in the century-plus since Mascagni and his librettist, Luigi Illica (who would later fulfil the same role on Madama Butterfly), wrote Iris. For a start we now have a lexicon to describe the heroine's fate—transgressive desire, grooming, molestation, snuff–and this extraordinary staging shows them all. It's hard to watch.
Director Olivia Fuchs, in one of her best recent productions, locates Iris in a recognisable though indeterminate modern setting and emphasises the extreme youth of the doomed prey by giving her a rag doll to hug, a dark portent of the plaything she herself is destined to become. There is no ambiguity here: Fuchs's Iris is a violated child.
'It is harrowing to watch'
Bolder still is her decision to give evil a pretty face, in keeping with the score. She is helped by the casting of the impossibly handsome American tenor Noah Stewart as Osaka, for in addition to singing a bunch of rhapsodic arias with rare grace, he also spends a fair amount of act two shirtless. What's not to love? With Iris abducted, drugged and stripped near-naked, he mauls her body to the most sumptuous music.
Stewart and James Cleverton as Kyoto give deeply committed performances as the double act from hell, while Mikhail Svetlov somehow manages to override the plot lurch that turns Iris's loving, dependent father into a self-pitying misery. Johane Ansell tugs the heart as a subjugated geisha and there are eye-catching moments from a trio of gymnastic dancers.
In the title role, Anne Sophie Duprels adds yet another verismo victim to her roster and, with her warm voice and intense musicality, conveys all the despair of a broken innocent. It is harrowing to watch her incomprehension as imprisonment turns to horror.
"I am life", intones the superb OHP Chorus as Mascagni's introductory padding, an Also sprach Zarathustra-style choral prelude, rises to its sunlit zenith. Was there ever a more ironic opening? Stuart Stratford, one of the UK's foremost opera conductors, shapes this moment as he does the entire work: completely inside the score and in command of a symphonic-sized City of London Sinfonia.
Strong performances and a fine production, then, but it remains a hateful opera devoid of heart, hope or redemption. Should OHP be staging Iris? Of course they should. They're the Verismo kings, and this is the apotheosis of the form. The music's gorgeousness is majestic. Just don't go expecting an easy ride.