Bonnie and Clyde at the Garrick Theatre review – outlaw duo are professional scene-stealers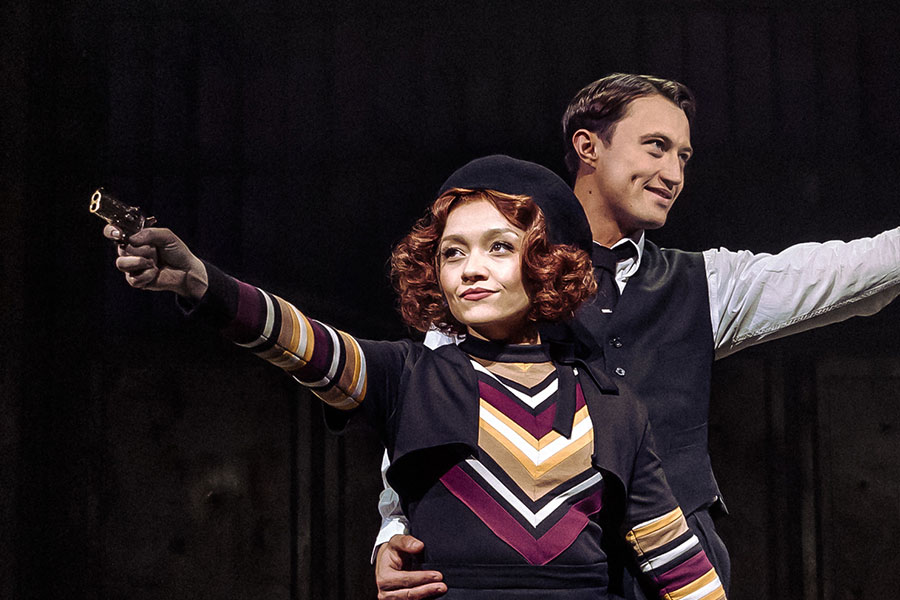 First seen as a full UK production in the intimate confines of the Arts Theatre (350 seats), Bonnie and Clyde, the musical about the famous Great Depression outlaws Bonnie Parker and Clyde Barrow, now leaps 100 metres down Charing Cross Road to the much more roomy Garrick Theatre (730 seats). It is a smart move, emulating the likes of fan favourite Six, which also leapt up in scale after initial and well-received seasons.
You can tell the creative team are revelling in the new abundance of space – designer Philip Whitcomb has adorned a larger canvas with flown-in scenery, while video designer Nina Dunn plasters the set with a combination of historical photos and evocative scene dressing.
With Amélie and now Bonnie and Clyde, it's fascinating how British creative teams can revivify Broadway duds (Bonnie and Clyde managed a total of 33 previews and 36 regular performances on the Great White Way) and make them solid hits. Bagging the WhatsOnStage Award for Best New Musical a few weeks back, it's easy to see where Bonnie and Clyde gets it right – punchy, crowd-pleasing tunes that can be launched to the back of the royal circle by some titanic voices.
Chief amongst those voices are returning stars Jordan Luke Gage and Frances Mayli McCann (McCann appeared opposite Jeremy Jordan when the piece played in semi-concert format at Theatre Royal Drury Lane in early 2022). Gage makes each of his solo numbers look easy – "Raise A Little Hell" (and probably a bit of roof) being a highlight.
McCann, for her part, is note-perfect as Bonnie – her act two number "Dyin' Ain't So Bad" delivered with panache and well-assessed melancholy. New faces on the scene include the ever-comedic Jodie Steele as Clyde's exasperated sister-in-law Blanche, while Dom Hartley-Harris gives a dependably rousing turn as the Preacher.
Book writer Ivan Menchell has not only picked a fascinating pair of historical oddities to act as his central characters, but also a richly textured period to play with. A bedfellow to the likes of Assassins, Bonnie and Clyde interrogates the American Dream in a world where dreams are being stripped apart by poverty. It's interesting how both Bonnie, pining to be a movie star, and Clyde, dreaming of being famous, take the pioneering rhetoric of independence and aspiration-seizing and apply them to reckless lawlessness.
At the same time, aided by numbers like "God's Arms Are Always Open", a sense of religious fervour underpins the piece. By the end, both Bonnie and Clyde seem almost nihilistically aethistic in their acceptance of their fate: "God's good earth is all dried up – it's dead!" Bonnie exclaims. To the duo, living in a time of economic deprivation, God has turned his back on those who, only a few decades earlier, were basking in prosperity.
While thematically richer than most musicals, Menchell's plot lines are slightly meandering, though director Nick Winston whips up a sharp pace that cracks through the tragic twosome's murderous time, never unnecessarily alighting. It means the show zips by faster than a 1934 Ford Model 40 B Fordor Deluxe sedan – high-octane musical thrills served by a top-notch company.