The Comedy of Errors (Tour – Handlebards)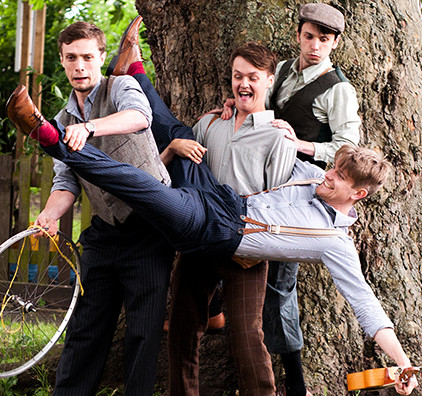 Bikes: they're the new, old, plaything. They're so… trendy. Every dandy from Shoreditch to Fulham has traded in four wheels for a retro two.
So you could see theatre company Peculius' Handlebards (Shakespeare plus bicycle, geddit?) as jumping a cynical bandwagon, with their fast-paced, bell-punctuated take on Will's finest plays.
Except – these four guys have cycled 2,000+ miles between venues. Carrying all their props, tents, plates etcetera too. They're the real deal.
And their Comedy of Errors is too – it's genuinely funny once the foursome (in eye-popping bright socks) get fully pedalling.
It's back to basics storytelling in the best way, extra characters improvised with badminton rackets, improbably appropriated shuttlecocks and bicycle chains as, well, actually, a chain.
The four swap between roles with practised ease (they're on the ride home now in London after a summer touring).
Callum Brodie and Callum Cheatle double as the master and servant twins separated at birth, the likeable master and comically anxious "ass" – his fear of the globe-sized cook who believes he is her hubby is vividly funny.
Tom Dixon is the flamboyantly bossy wife who mistakes one master twin for another, Paul Moss her squealing sister.
Director James Farrell keeps the cap, waistcoat and apron changes at breakneck speed and at a running time of under two hours, it's a breezy, easy bite of the Bard.
And on the night this writer went along to see it at London's Museum of the Order of St John, the foursome were doused afterwards in a now ubiquitous Ice Bucket Challenge – by audience member Sir Ian McKellen. For a once in a lifetime post-show story, You Shall Not Get Better Than That.