Michael Coveney: Critics' Circle Awards lit up by Arthur, Lenny, Phoebe and Lesley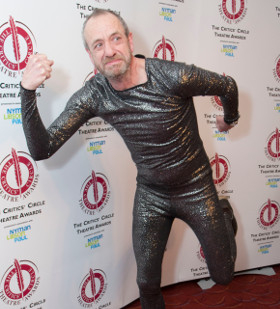 The Critics' Circle Theatre Awards were joyously enlivened, as usual, yesterday lunchtime by Arthur Smith, who took to the little stage of the Bernard Delfont room in the Prince of Wales wearing a glittering grey one-piece leotard – which he said he'd borrowed from Mark Shenton, the drama section chairman.
He probably meant Dominic Maxwell of The Times, much more his slim-fit build, as he conducted his awards conversation with me after the event, again as usual, addressing me as "Benedict." I don't think he confuses me with the Cumberbatch variety of Bendy, more the Nightingale one, which means I must sharpen up my dress code pronto. Snappy suit winner at this year's awards was definitely Matt Trueman, in a slate blue combo that made him look more like a winner than a giver.
The suit was certainly a good, perhaps the only, example, of new material at the ceremony. The nearest Arthur had come to any, he warned us, was the leotard. He doubted that any of the Circle members, shady though they be, had ever been arrested and, of course, Charles Spencer piped up that he had been. "What for?" said Arthur, semi-dumbstruck. "Drunk and disorderly," said Spencer, before going on to preface his awards speech about best actress Lesley Manville with a confession that he doesn't always go out to the theatre with a spring in his step.
This neatly complemented Arthur's quotation from Dr Johnson that a play can be worth seeing but not worth going to see. It's our job as critics to make the "going" part of it work, and although Chimerica was justly lauded by all the critics (it certainly got my vote) and scooped awards, too, for director Lyndsey Turner and designer Es Devlin, it didn't really take off with the public when it transferred to the Harold Pinter. Title and subject matter may still be too daunting for an audience outside of the protective subsidised, or off-West End, circuit.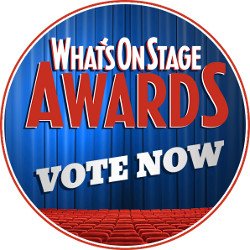 The same might have been sensed about The Scottsboro Boys at the Young Vic, which didn't transfer, maybe even more surprisingly. Anyway, it was a worthy best musical winner though I personally voted for American Psycho at the Almeida (and, for the record, split my Es Devlin vote for both Chimerica and the sleek slasher, brilliantly realised version of the Brett Easton Ellis novel).
It was the 25th Critics Circle awards, and they've become a most enjoyable, informal date in the awards calendar. Lenny Henry (I voted for him, too, as Troy Maxson in Fences) gave a beautiful acceptance speech, saying how proud his mum would be of him back in Dudley, Birmingham, and how James Earl Jones (good impression) marked his card with August Wilson's play, in which he enjoyed a huge success, when they were on a film set together.
And Lesley Manville assured us that it wasn't all doom and gloom backstage at Ghosts; they all cheered themselves up with a bit of Abba every now and then. Rory Kinnear couldn't collect either his most promising playwright award, for The Herd at the Bush, or his best Shakespearean actor gong for the NT Iago – a first such double in the history of all awards, surely – as he was filming in his underpants in Hertfordshire. He sent a message saying how grateful he was that there was no satellite link to the Prince of Wales.
Rory shared the new playwright award with Phoebe Waller-Bridge for her coruscatingly funny Fleabag, which I saw on my first day at last year's Edinburgh Festival, and it set a bit of a standard. She's obviously as funny "off" as on, as she burbled hilariously in her acceptance speech, revealing that Henry Hitchings, who presented her with the award, used to teach her at sixth form college; at first, I thought she had said "sit-com" college, so jumbled up were her lips, teeth and, I think, chin.
I have no quarrel with any of the winners this year, certainly not with the brilliant Kate O'Flynn as promising newcomer for her devastating performance in Simon Stephens' Port at the National. But I always think it would be more interesting to know who exactly voted for what, as we used to know when these awards were documented in Plays and Players magazine before acquiring the imprimatur of the Critics' Circle. The vote in those days was restricted to the leading newspaper critics, who voted in each category and appended to that list 300 words of explanation/justification, the whole bundle published in the January issue.
In that spirit, therefore, I can reveal that, in addition to the above already noted winners, I voted for Marianne Jean-Baptiste as best actress in The Amen Corner; Tom Hiddleston as Coriolanus for the best Shakespearean performance; Dominic Dromgoole as best director for Gabriel at the Shakespeare's Globe, merely because it was my absolute favourite show of the year; and Caoilfhionn Dunne as most promising newcomer for her haunting, waif-like performance in Conor McPherson's The Night Alive at the Donmar Warehouse.
I didn't do as much catching up and schmoozing this year as I've been attacked by a mystery virus and been feeling rotten for a few days. So instead of lounging pleasantly for an hour in the Bernard Delfont bar, I hopped on a bus home and went to bed… but not before I exchanged notes with Madani Younis, director of the Bush Theatre, who has suffered what sounds like exactly the same complaint. He cheered me up almost as much as Arthur Smith – nothing like a bit of shared suffering and sympathy – and I hope he's feeling as considerably better this morning as I do.