Review: Sticks and Stones (Summerhall, Edinburgh Fringe)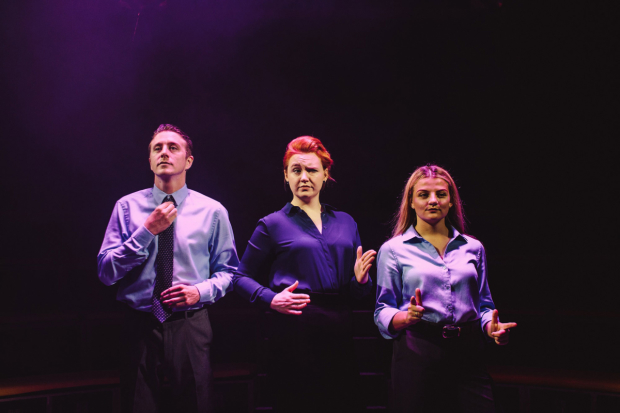 Vinay Patel's new play, part of the Paines Plough offering at Roundabout, is well judged for the sensitivities of our times. It takes the idea that a single word, used thoughtlessly in a joke, could ruin a career when someone finds it offensive.
But around that notion it spins a clever web of shifting allegiances. At first it seems ridiculous that A should be bothered by B's simple quip, uttered as part of a meeting to clinch a deal that B hopes will win her promotion. After all, he's a man and she's a woman and it is hard to escape the conclusion that part of the offence he has taken is strategic; he stands to benefit from her failure, after all.
Then the joke is reported and B finds herself in a dizzying whirl of sensitivity training and the shifting alliances of the workplace. She becomes a poster girl for the dinosaurs, the people who despise political correctness and tout the virtues of free speech in order to continue saying the unsayable. But what is unsayable now? And is B's niceness, her pride on being a good person, a good woman, anything more than skin deep?
The questions go on. The skill of Stef O'Driscoll's production, cleverly choreographed by Jennifer Jackson and Simon Carroll-Jones, is that we never hear the offending word. Instead it is bleeped out with a flashing light and a gesture. B's boss C is so worried by it that she won't even say the first initial, preferring instead to substitute a "neutral noise".
Patel's script is spiky. It's a cartoon vision, but its targets are pointed and he hits them with skill. He has a brilliant ear for the new jargon, for the concern with "optics" and the confusions of intersectionality. The hard-working, three-strong cast of Katherine Pearce, Jack Wilkinson and Charlotte O'Leary do his ideas full justice, switching seamlessly between characters on different sides of the argument.
It's not a play that will change the world, but it observes its passing with shrewd acuity.