Douglas Maxwell: 'I sent 21 plays to the Traverse before I had my first one accepted'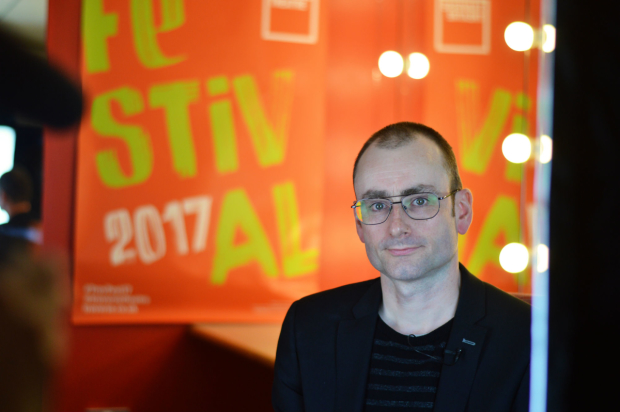 Douglas Maxwell is one of Scotland's most important and most-loved playwrights. His break out year was at the Fringe in 2000 where his playground-set Decky Does a Bronco garnered rave reviews and a Fringe First. Many of his early works have coming-of-age stories and small-town young people at their heart, but his plays have featured a host of characters from old ladies, to middle-aged couples to unconventional families. This year he has returned to the Traverse Theatre and the Fringe with a new play The Whip Hand.
I feel like you must be an Edinburgh Fringe veteran, is that right?
Mainly I'm a fan. I wouldn't consider myself a festival playwright. Theatre companies tend to wheel me out in the hard times, during the cold winter months. My big festival year was in 2000 with Decky Does a Bronco. There was also a show I did called Variety at the EIF in 2002. But we don't talk about that. Whatever you do, don't Google it. The Whip Hand is the first play I've had on in festival time since then. I've had countless shows at the Traverse, but not during the festival. Interestingly in 2000, I had Decky Does a Bronco on and Zinnie Harris also had her show on, and this year we're back together in the line up again. It's lovely to be back here.
It seems as though you've never stopped writing since your break out year…
I've never stopped writing plays but they do occasionally stop going on. After Variety it was two and a half years. Producers just said to me – I can't do it. I had two shows that were programmed and taken off. I had these first three plays, Our Bad Magnet, Decky Does a Bronco and Helmet they all went together and they were a big success. Then I thought I should write what a playwright writes, so I wrote Variety which was 'Chekovian'. But I thought the audience were there to hear my words. Wrong. They were there specifically not to hear my words. They didn't want the writer in there, they wanted the characters and stories
Do you find it easy to step outside of bad reactions to your plays and analyse what happened?
The older I get the better I get at it. But not at the time. It's not reviews, reviews hurt in a different way, it's when the audience doesn't like it. So after the pain and the tears and the lying on your pillow weeping, you have to go back and work out what happened. And it's not about pointing the finger, but looking at your own work – what did I do that created the problems there?
So you really learn from those moments?
Yes. Joyce McMillan's book of her writing about Scottish theatre is fantastic, but my entries are a review of Helmet – bright young writer writes plays for teenagers – and then an essay on Variety. I'm not in it after that. But to be honest I didn't feel like I had started being a playwright until after Variety. Every day's a school day – there was a guy in our local at home who only ever said that or: 'It's nice to be nice' – those are the mantras which I've lived my professional life by.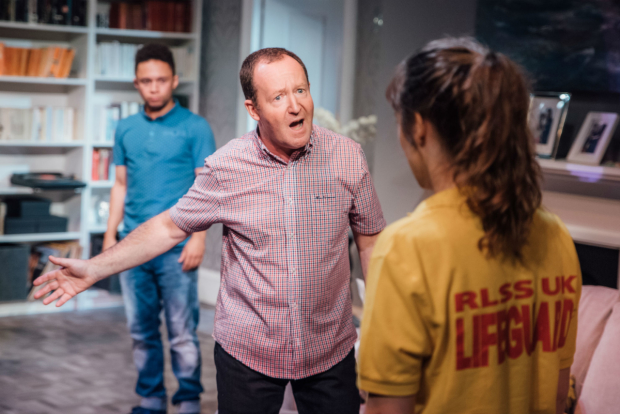 Your early plays were very much about young people making their way in the world, but The Whip Hand isn't. It's about 50 year-old Dougie…
I see them as the same people, growing up. In Our Bad Magnet the characters were aged from 9 to 29, If Destroyed True they were 30, in Fever Dream: Southside they were in their mid-30s and buying flats. In Charlie Sonata they were in their 40s and in The Whip Hand Dougie is 50, though they are all very different plays. I think playwrights have a responsibility to bring out their people. Some playwrights are lucky enough that they can speak to the universal, whereas I think I speak to the local. My characters come from a class bracket and a certain geographical place.
So what is The Whip Hand about?
I'm being coy about it because there's a reveal, but it's only 15 minutes in. Essentially there's Dougie Bell and his ex-wife is throwing him a birthday party in her house. She's got a new husband – the lovely Lorenzo – and they are all together with Eileen and Dougie's daughter and Dougie's nephew. But Dougie wants to do a presentation, which is weird because normally he can barely string a sentence together. There's class issues at play, race comes into it. It's a domestic drama.
How did you come to writing plays?
I wasn't one of these writers that saw a play and started writing. It wasn't like that for me. My family went to pantomimes, but we didn't see anything else. I went to university young – I was only 17 – and it was only by dint of personality that I started doing drama at university. We started the Stirling University Musical Theatre Society. For my dissertation I wrote a play – and it was a light bulb moment. I was alright on stage, I didn't really like directing, I really wanted to be in a band, but the only person who looks worse wearing a guitar is Tony Blair.
Did you do the Fringe when you were younger?
I sent 21 plays to the Traverse before I had my first one accepted. But with the Fringe, I said to myself I wouldn't do it unless I had a chance of getting a Fringe First. I had looked around at people and would think: 'This is just a lark to you, but this is my life.' I was harsh, I was young and ego driven. But I was really focused.
Do you feel the same about people doing the Fringe now?
I've changed my mind. Now I know how easy it is for circumstances to change year on year. One year I was strolling the Mile with a Fringe First and five stars, two years later I had nothing but writers saying how I was a disgrace to Scottish theatre. Now I feel like they are my brothers and sisters. That's from where I came, that's where I'm gonna end up. I am in the mainstream at the minute but I will be back, with my tail between my legs.
The Whip Hand runs at the Traverse Theatre until 27 August at various times. It then transfers to Birmingham Repertory Theatre from 5 to 16 September.