ENB Tour My First Ballet: Coppélia
English National Ballet and English National Ballet School present the third in their My First Ballet series with Coppélia, the comic tale of an eccentric toymaker and his mechanical doll, which is currently touring and includes stops in Manchester, Bromley and London.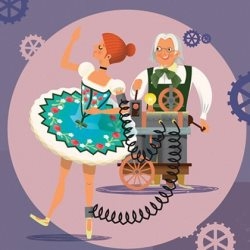 Created with youngsters in mind, but based on Ronald Hynd's original production, Léo Delibes's score is accompanied with narration from Michael Coleman to ensure that everyone enjoys this classic story, allowing children aged three and above to get their first taste of classical ballet.
My First Coppélia, builds on the of success of the previous productions My First Sleeping Beauty and My First Cinderella, hoping to inspire long term relationships with ballet, by reaching out to newcomers.
It will be performed by the English National Ballet School, which is a touring company featuring second year students of outstanding potential in performances produced by English National Ballet.
Dancers will wear the sumptuous costumes from the company's full production and the production is directed by English National Ballet's Associate Artist George William. George is a young British choreographer and graduate of English National Ballet School.
George's first major commission was Firebird for English National Ballet and his role, which was new to ENB last year, aims to nurture young talent with great potential. He will also work with arts organisations to build collaborative projects, and bring the work of English National Ballet to communities across the UK, particularly to the touring venues.
My First Coppélia is 80 minutes long and suitable for ages 3 and is currently at the Peacock Theatre, London.
It goes on to visit Manchester's Palace Theatre (26 – 27 April), Assembly Hall Theatre, Tunbridge Wells (3 – 4 May), New Victoria Theatre, Woking (10 – 11 May), Waterside Theatre, Aylesbury (17 – 18 May), Churchill Theatre, Bromley (24 – 25 May).