Sara Pascoe: 'I'd love to do a musical next'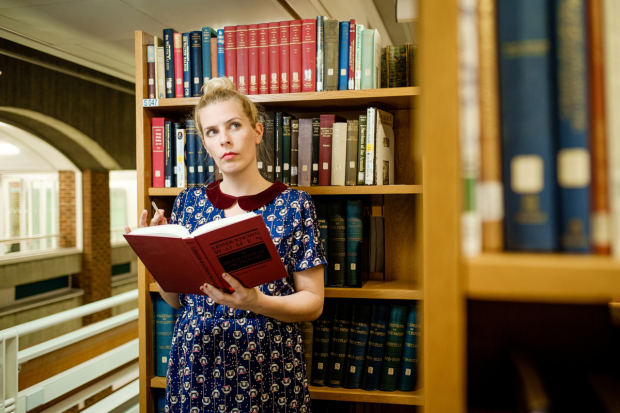 How would you describe Pride and Prejudice in five words?
Stifled passions, loud relatives, love.
What made you want to adapt this play?
I have been trying to write plays for ten years, and have now found that it is much easier if one of the world's best writers has already mapped out the story for you and created some incredibly funny characters.
What makes this different to other versions we've seen?
Is it pretentious to say it's very 'now'? But it is. There are flashforwards to the modern world so that contemporary characters comment on the actions of the Bennets. We have also cast an excitingly diverse range of actors, so this production does not look like any other. It's less uptight, but all the emotion is still there.
Will the purists enjoy your version?
I really hope so, because my intention when writing was to get closer to what Austen was discussing in her novel. To take risks and be creative, but only in attempts to get nearer to her truth. And to keep the dynamism of the story even within the repression of the characters on stage.
Have you got the theatre bug now and will you do more?
I really and truly hope so. I want to write an original play now! I have an idea, I'll see how the reception for P and P goes and then get cracking.
What was the biggest challenge with this project?
Not to boss everyone around, I am so used to working on my own and performing my own words that I am having to learn how to create with other people. But it's very good for me.
When did you realise you were funny?
That's tricky for me to answer because I still feel like it's so arrogant and braggy to say "I'm funny". But about ten years ago, I realised you could learn and practice and hone humor like any other craft.
What do you consider to be your big break?
When my agent signed me. I had been an out of work actor for a decade, I was doing shows in old people's homes at the time, and I entered a stand-up competition and Dawn saw me and changed my life.
What did you want to be when you were a kid?
An actor who did veterinary work on the side, maybe in space.
What has been your career highlight?
Writing my book and getting to speak to people about it. I get to truly connect with people I don't really know, but they know all my secrets and sometimes share things about themselves. I am very lucky that stand-up has opened my life up so that I can now do very serious things. I have always loved books and reading, and now that I can research for my own books, well, it's dreamy.
Most embarrassing moment?
I like to lift people up when I'm drunk. I don't know why, but a bottle of wine and suddenly I'm staggering in heels I can't walk well in while sober, trying to heft men onto my back to prove how strong I am. No one likes it, no one wants to be lifted.
What draws you to comedy?
The lack of censorship, the live circuit throbs with opinion and commentary. And it is not a homogenous pool of comics anymore, as the voices become more diverse the scene becomes even more exciting.
Who are your idols?
My sister is an English teacher, and I think teachers, doctors, nurses, social workers and the people who work campaigning for the vulnerable or housing the homeless. These are people who get up every day and make the world better for others. Not angels but regular people and I wish they were better remunerated and supported by our society.
If you could go back in time and change one thing in your career what would it be?
I am so happy with where I am so I wouldn't change anything, And even the bad jokes, or terrible plays I have done, it's all a journey and learning isn't it? So you can't erase anything.
What was the last great bit of theatre you saw?
Billie Piper in Yerma was incredible. I thought the production was excellent.
Would you like to do more acting on stage?
I have done lots of fringe theatre over the years, and would love to do a big play or ideally, a musical! Yeah, that's the next thing on my wish list.
What would your dream role be?
Any part as long as it's the main part.
What do you do to unwind in your spare time?
I love yoga. And getting drunk and lifting people. Also, I have started bowling a couple of nights a week. There are some brilliant bowling alleys in London where you can dance and play pool and stuff.
You were a London tour guide, what's your favorite bit of the city?
Green bits, the heath and the ponds and Finsbury Park near me. I love the city when it's quiet on the weekend, and the best touristy bit is Fleet Street. Or maybe the Tower? It's all pretty great to be honest.
What advice would you give to aspiring comedians?
Find a way to be kind to yourself along the way. Yours is a job that will encompass many failures, we have to show our work before it is finished, before we have grown. We are born on stage and then have to grow up and be judged. Forgive yourself and take risks and watch as many of the others as you can.
Pride and Prejudice runs at Nottingham Playhouse from 15 to 30 September, and at York Theatre Royal from 4 to 14 October.