West End Producer: A theatrical look back at 2014, dear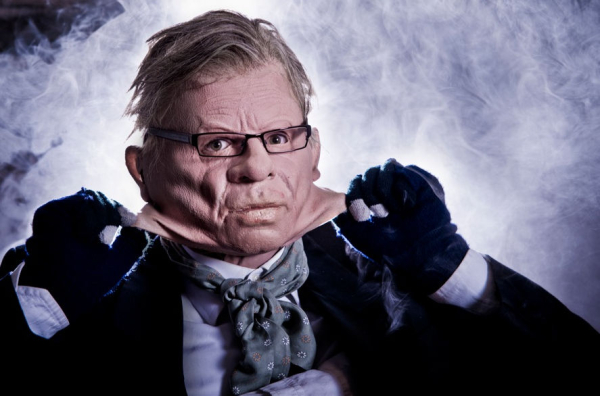 My dears. As one year finishes another one begins. And what a year 2014 has been – full of theatrical intrigue, musical excitement, and Ronan Keating. There have been upsets as Jesus Christ cancelled his tour last minute, Simon Cowell proved he doesn't know everything about entertainment (thank God), and Lindsay Lohan showed us how not to act on stage. Bless, dear.
For me there were many highlights – and of course most of them were musicals. Some people really took a dislike to the subject matter of Dogfight at the Southwark Playhouse – but surely that is something to be applauded. I love it when audiences have strong reactions to a show – whether it be good or bad. For me, Dogfight was a joy. Once again the wonderful Danielle Tarento and her team caused a smash at this intimate venue. Brilliant leading performances by Laura Jane Matthewson and Jamie Muscato, and lots of men walking around in not a lot of clothing. Which guarantees a show is going to be a hit. Bravo. My only slight reservation was that a couple of the marines were camper than my casting director, dear.
Onto Urinetown – the musical about a future where we pay to do number ones and twos. This Tony Award-winning musical is a brilliantly structured satire which, in my opinion, the West End needed. Both casts – originally at the St James, now the Apollo – had a feverish energy. Firstly we had Richard Fleeshman tensing his six-pack nightly, and now we have Matthew Seadon Young twerking his pecs (it is now commonplace that actors, male and female, have to bare their chest at least five times in a show. Nine times for a show directed by Jamie Lloyd). Sadly the show is closing on January 3rd – so catch this while you can, dear.
In October, Memphis had me salivating in my Jean Valjean pants. Memphis is a feel-good show about segregation-era America and the birth of rock n'roll. The company are like vocal dynamite – and although Beverley Knight isn't Dame Judi in the acting stakes she certainly makes up for it with her extraordinary vocals. My only criticism is that there wasn't enough space around my seat for me to get up and display jazz hands, dear.
The Scottsboro Boys, now at the Garrick, was another favourite. It's a marvellous recreation of Susan Stroman's New York production that was at the Young Vic last year. This brave and bold minstrel show turns the genre on its head, with black characters playing over the top white characters. The music is sublime – a brilliant mixture of jazz, gospel and vaudeville. Such an important subject tackled with brilliance.
Then of course we had Miss Saigon – which has been remarketed as a brand new show, when it is in fact very similar to the original. But who cares? It is a triumph. And who can forget the 25th Anniversary Gala performance? It was one big showgasm. With original leads Jonathan Pryce and Lea Salonga singing alongside the current cast, there wasn't a dry set of show pants in the house. And 18 year old Eva Noblezada is a sensation. Cameron Mackintosh must have an underground lab somewhere, where he pays scientists to genetically grow him amazing young performers. I'm still convinced that's how the Strallen sisters were created, dear.
Talking of revivals – we had Evita and now Cats. It seems that Lloyd Webber, after Stephen Ward, has decided it's easier to put on his old favourites instead of the stress of finding another scandal to write about. Evita wasn't bad – although God knows why Kenwright keeps giving Marti Pellow leading roles. I'd much prefer to see him standing at the back with a spear watching the rest of the cast, dear.
Cats, of course, is selling out –and I hear rumours of a transfer to a theatre on The Strand, but we'll have to see. Currently many young men all over the world are paying premium to see Nicole Scherzinger dressed as a giant pussy. I must say I thought she was wonderful. In fact I bumped into Nicole and Lewis Hamilton at press night. Bless Lewis, Nicole's heels were so big that she towered over him – making them look like the posh Krankies, dear.
I must also mention Here Lies Love at the National's newly renovated Dorfman Theatre. This part promenade production is unlike anything else in London. It is basically the life of Imelda Marcos told with disco music. I have never been to a rave, but after this show I felt like I had. It also made me feel like I'd taken a drug I haven't touched since the 60s. I even had a come down the following day (but that's maybe because I listened to a couple of songs from Stephen Ward, dear).
In terms of original British musicals we had I Can't Sing! The X Factor Musical. I was a fan of the show – it made me laugh out loud. With wonderful Cynthia Erivo giving another of her stellar performances, and Nigel Harman playing Simon it had all the right ingredients for a hit. However, the Palladium was just too big, and the whole thing did seem a little like a vanity project for Mr Cowell. The problem was that fans of The X Factor weren't prepared to pay £65 to see a musical about it. I'm sure if it toured it would have done good business, but tourists in London tend to want to watch well-known musicals, or shows where the subject matter is not about television reality shows. Good God – can you imagine if it had been a success? We would have been subjected to I'm A Celebrity Get Me Out Of Here – The Musical next year, dear.
We also had the original and distinctly English Made in Dagenham. This musical was witty, feel good, and even had some memorable tunes (which is becoming increasingly rare these days). The show is a lot of fun, although it contained a little too much gurning for my liking (you have to be very selective when gurning on stage, dear) – but I still left feeling uplifted.
I suppose I should also mention some plays. I do actually like plays, but on the whole I find they contain too much talking. That's why a good musical is best. When the talking gets boring you just insert a show tune, dear.
My play highlights for the year were The Crucible – with excellent Richard Armitage giving what must be arguably one of the finest stage performances of 2014, closely followed by Gillian Anderson in A Streetcar Named Desire. But my favourite by far was King Charles III – a brilliant play about a future where Prince Charles is on the throne. Fabulous performances all round, with hardly a moment of gurning in sight.
I must also mention the highly physical and very silly comedy The Play That Goes Wrong, which began life at the Old Red Lion pub and has now transferred to The Duchess. The play was written and is performed by a group of friends from LAMDA, and just goes to show that West End hits can be created by anyone with drive and talent. I am a big admirer of this show and all of its creators – and am thrilled to see it has been extended until next September.
Anyhow, I've bored you all for long enough now. I hope you have a very merry Christmas and that you find my little book – Everything You Always Wanted To Know About Acting (But Were Afraid To Ask, Dear) in your stocking. For now, here's a little actor carol I've devised for you all – I expect to hear it in dressing rooms across the land!
THE 12 DAYS OF CHRISTMAS – FOR ACTORS
Much love,
WEP
---
For more wit and wisdom from West End Producer, take a look at his book, Everything You Always Wanted To Know About Acting (But Were Afraid To Ask, Dear), out now.