We Will Rock You review – it's already defied critics, so does anything here really matter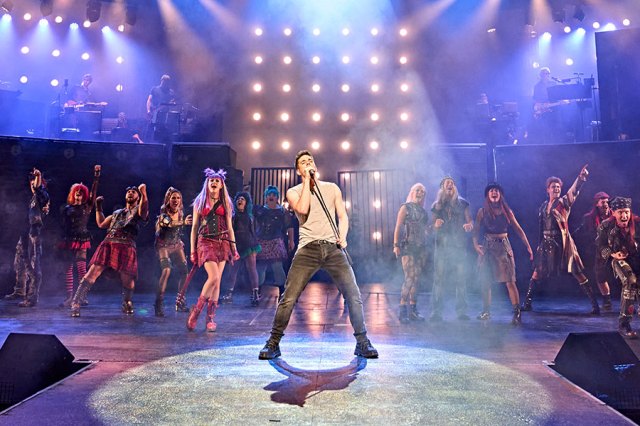 Squiggle, fastidiousness, balderdash.
Those are three words that have no relevance to this review – because, as the indomitable success of We Will Rock You has proven over the last 20 years, critical opinion is seemingly also pretty irrelevant when it comes to the titanic Queen juggernaut musical.
When it first premiered at the Dominion We Will Rock You was met by a chorus of evisceration from the critics, with Ben Elton's book being described as being "as sixth form as it sounds". But, shrugging off the negativity, it went on to run for over 12 years – setting box office records for the venue and even bagging a handful of WhatsOnStage Awards in the process.
So, now it makes its West End return, the question posed to critics is – what's the point in even trying to bring it down?
Let's face it – no one is expecting We Will Rock You to provide a Pulitzer-winning script or genre-defining creative expertise. But if audiences are there for some Queen classics, sung by the cream of the MT crop, that's exactly what they're going to be getting.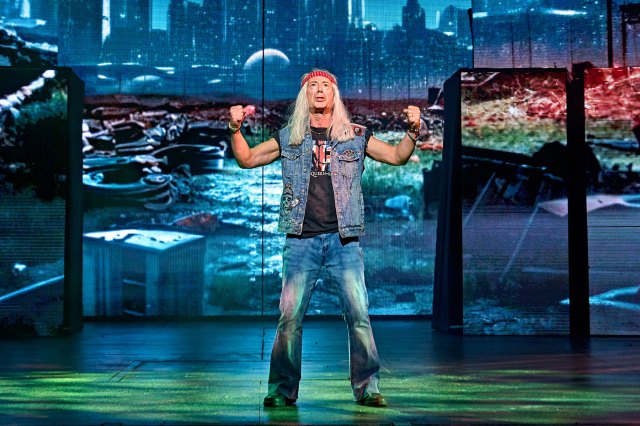 Chief amongst that crop are Ian McIntosh and Elena Skye, who are two young dreamers – Galileo Figaro and Scaramouche – in a future hellscape where cultural homogeneity is enforced with totalitarian ferocity. Like some futuristic Arthurian fever dream, the only way to save a rebel group of Bohemians (and the world!) from this digital torment is to find a fabled "axe" belonging to a long-since lost band, known simply as Queen.
Returning to both direct and star as camp elder rocker Pop in this new offering, Elton wastes no time delving right into metatheatrical mania, peppering wry asides about the show's history into its script – like some sort of rhapsodic snake eating its own rock-tastic tail. That's about as innovative as it gets, as it's fair to say the whole text is as structurally cogent as soggy pavlova – devolving into increasingly flimsy reasons to burst into Queen songs (the most horrific crime being Brenda Edwards' maniacal baddie Killer Queen bursting into "Don't Stop Me Now" in order to stop herself from being interrupted). Compared to the edgier, more bombastic rock musicals of recent years (Bat Out of Hell most obviously), it is definitely showing its age.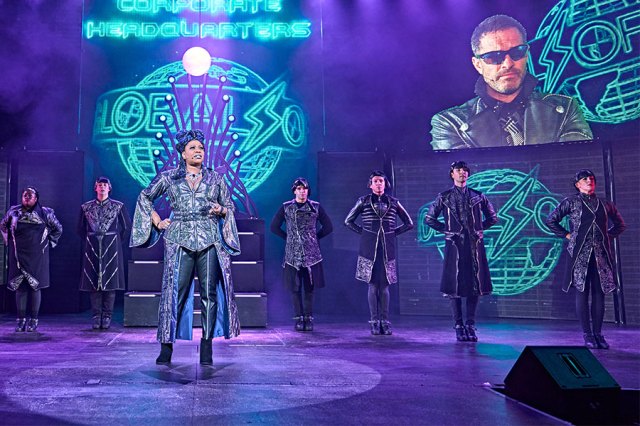 Production design-wise, the new revival's aesthetic is a blend between Starlight Express and an anarcho-punk tribute concert. Large video screens show computer graphs (many seemingly recycled from the Dominion run) that look like they were created in Minecraft, serviced by some immensely pedestrian direction from Elton.
Those voices though! Even Lee Mead has a blast chewing scenery in "Seven Seas of Rhye…" as an unexpectedly satisfying villain. Stand-out, yet fleeting turns also come from Christine Allado and Adrian Hansel.
As much as I wanted to hate it, it was almost impossible to resist the show's endearing charm. Yes – it's a mess – but it does exactly what it sets out to do. There's a purity in that – and punters will surely have a rocking great night. So for this one, do the critics' opinions really matter? Anyone can see, probably not.