Toot on interactive theatre and the ultimate 90s mixtape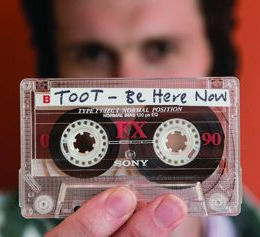 Be Here Now
is a show about pop music, and specifically the 90s era in which we were all teenagers, choosing between Blur and Oasis, wearing denim jackets and having an opinion on The Spice Girls.
On day one, the three of us shared music that meant something to us when growing up. A parade of mixtapes, CDs and minidiscs were produced along with tales of teenage house parties, first love and more than a few embarrassing hairstyles. We were struck by how there seemed to be a link between the anticipation of early romance, and the delayed gratification of access to music in the 90s; an era of waiting for your song all night on the radio, rather than the modern experience of downloading it immediately onto your phone.
From this starting point we began devising scenes based on our musical choices. We wondered how we could recreate or translate the power of our songs, the stories attached to them, and also the physical environments in which you experience them. We created the bus on the way home from the CD shop, the house party with the specially made mixtape playing, and the teenage bedroom covered in posters of Kylie.
The audience are central to all Toot shows. We're interested in how a collective experience can combine with one-on-one moments, with our audience playing characters or creating the space in which a scene takes place. With that in mind, we wanted to find ways to gather the audience's experiences of pop, and the music that matters to them. We tried out various ways of asking the audience to share songs, and perform in scenes. We're always aware that the last thing most people want at a post-work theatre visit is to be forced to dance, jump through a hoop and play the piccolo.
"Show-offs that we are, we love being the centre of attention"
It's a hard sell – "interactive" theatre. We're hoping to make a piece that is open and accessible; in which the 60 people in the room with us will really enjoy joining in. It is a little hard to test this – we only have each other in rehearsals, and, show-offs that we are, we love being the centre of attention. It means that a lot of the time we are speculating about how audiences will respond to the our asks…
Helpfully, we've been able to test material on some willing victims last year in scratch performances. At Pulse Festival in Ipswich we performed in traverse and had the audience queue outside the door as if they were lining up to outside Our Price. At Cambridge Junction we asked the audience to gather round and watch a bedroom of tapes and CDs be built, and at Latitude Festival we competed with the noise of bands and outdoor shows yet were able to create an intimate experience.
These early showings allowed us to gauge the audience's response (or lack of it), during the performances, and also to hear their opinions in post-show discussions. As a seed commission at Ovalhouse we were able to put together all these experiences for a more elaborate, work-in-progress showing in October which has massively informed how the show has developed. It's always nerve wracking sharing unfinished material, but we learnt a huge amount from it and Be Here Now wouldn't be the same without them.
Since then a lot of chin-stroking has taken place, plenty of material was adapted, developed, or simply binned and many 90s discos have been gatecrashed for inspiration. Over a year since we started, Be Here Now has arrived at Shoreditch Town Hall. All together now: "SLAM YOUR BODY DOWN AND ZIG-A-ZIG AHHH!"
TOOT is a trio of performer-directors Stuart Barter, Clare Dunn & Terry O'Donovan working with producer Faith Dodkins. Be Here Now continues until 28 June – more info here
TOOT's ultimate 90s playlist:
"Smells Like Teen Spirit" – Nirvana
"No Diggity" – Blackstreet
"Never Ever" – All Saints
"Beetlebum" – Blur
"What Is Love" – Haddaway
"Pink Glove" – Pulp
"Waterfalls" – TLC
"Cherub Rock" – Smashing Pumpkins
"Glory Box" – Portishead
"Better The Devil You Know" – Kylie