The many versions of Hiran Abeysekera
He's already braved the treacherous seas in the multi-award-winning stage adaptation of Yann Martel's Life of Pi, and now the critically-lauded leading light Hiran Abeysekera has a different challenge on his hands – tackling the role of Nathuram Godse, the man responsible for the murder of Mahatma Gandhi. Not only is Godse an enigmatic and powerful role to take on, but Abeysekera is doing so on one of the largest stages in London – the Olivier. 
For Sri Lankan-born Abeysekera, preparing for the production was a two-part process: "The first few weeks of the rehearsal process were all about keeping it small and trying to find as much truth as possible. And then Indhu [Rubasingham, the director of the five-star show] started saying 'make it bigger, make it bigger, it's great what you're doing but it needs to be bigger, it's the Olivier!'"
But a role like Godse, based of course on a real historical figure, is made for the space, Abeysekera explains: "He's got a lot of anger, hatred, confusion and vulnerability. That's what Indhu was pushing me to find. It feels quite Greek – sort of bare and pure. Emotions like that are better suited for the Olivier because they are just a burst – that hopefully fill the auditorium." 
Of course, that doesn't mean it's been a cakewalk, he explains: "I would be lying if I said I wasn't nervous about this. But it was good nervous. It was excitement." There are lessons to be learned from Godse – just like all tragedies of the past: "the more we know where we come from, the less likely we are to make mistakes that we did in the past".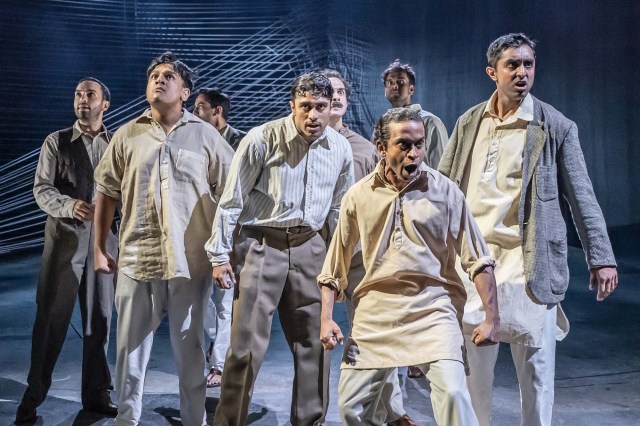 But how did this dynamic, athletic performer come to be so radically successful? The key lies 15 years ago, where the seeds of a future career were laid. Before then, Abeysekera remembers his first role was, while living in Sri Lanka, playing a parrot in a staging of Goldilocks and the Three Bears (albeit one with a slightly different vision, given the inclusion of parrots). 
Abeysekera unequivocally believes that everything he's achieved is thanks to those who have helped him get there: "I'm so fortunate. In 2008 my friends put money together and got me on a plane to come and audition for drama schools, and since then my life has been changing at a rapid pace." Early roles would be any emerging actor's dream: including work with English Touring Theatre on Tartuffe, the RSC and an initial spell at the National in Behind the Beautiful Forevers. 
The idea of performing at the National Theatre wasn't really on Abeysekera's radar early on: "I didn't grow up knowing British theatre that much – the National wasn't a place that I had on my bucket list or anything. It was only once I got to drama school that it became 'a thing'. I got a chance, with Beautiful Forevers, Rufus' first show after he was announced as the venue's new director, that was on the Olivier. It was a smaller part and I was just so happy to be there." 
Whilst the well-documented success of Life of Pi is a huge part of Abeysekera's life, he says the the "biggest change started happening when I got to work with Peter Brook in Paris [in Brook's Tempest, staged at Théâtre des Bouffes du Nord]…. Both he and Marie-Hélène Estienne taught me a lot. It was a constant search – working with a 95-year-old man who just wanted to tell stories. It was nothing to do with making a hit or impressing people. It was about what he could find out about life and death. I remember when we were performing in Avignon I told him I was worried about how many unsolved questions there were in the play. He replied 'Well, be careful, answers are like brick walls – they stop you from searching'. Peter's plays are always more of a meditation."  
What underpins Abeysekera's love for the art form is his investment in the communal experience theatre provides – one he wants to share with as many people as possible: "I go on a hike every year in Sri Lanka with my friends, and whenever I'm like on top of mountains and seeing, say, the landscape and the sun, the stars in the night, I always go, 'Oh, I wish all my friends, like the people I love, could experience this'. And it's a similar thing with theatre." 
The future is pretty exciting for Abeysekera – after what he described as a "dark spiral" over the last year, new creative beams have emerged – he contributed to his first album of songs, crafted earlier in 2023, while a new play is being courted by one of the biggest off-Broadway venues going. A TV series is also in the pipeline.
In a way, it means the actor is finding different aspects of himself: "I found that there are lots of different versions of me. When I'm at work, that's one version. When I'm with my parents and I'm with my friends, it's another one. When I'm in Sri Lanka it's one, when I'm in the UK, it's another, on Broadway it's something else. I've noticed very subtle changes,  like the way I speak or the way I dress, or how I behave – it all changes a little bit. So there's so many different versions of myself. I wonder if all of those versions, or at least some of those versions, had a creative outlet, what would those outlets be?" 
What is clear is that, whatever version of himself he is, Abeysekera continues to be a spellbinding addition to British stages. He's happy just to keep riding the wave: "From playing a parrot to leading a play at the National Theatre… wherever fortune is taking me – I'm up for it."