The Jungle in the West End: first look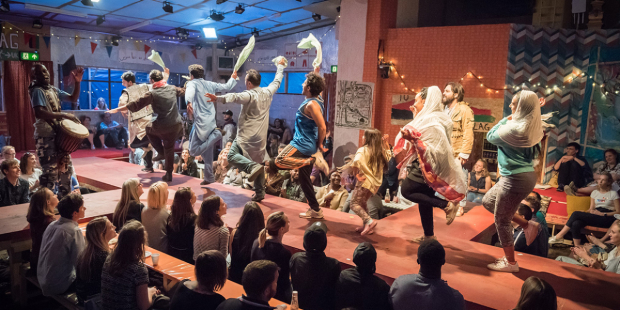 Photos have been released offering a first look at The Jungle in the West End.
The show, which transfers from the Young Vic where it first ran last year, sees Miriam Buether's set transform the Playhouse Theatre into a replica of the Calais Jungle refugee camp, with audiences sitting around the camp and watching the actors from all sides.
The play is written by Joe Murphy and Joe Robertson and is directed by Stephen Daldry and Justin Martin. The company is made up of actors from around the world, with cast members from Iran, Sudan, Afghanistan, Eritrea, England, Zimbabwe, Syria, Armenia, Congo, Wales, Scotland, The Gambia, Morocco, Lebanon and Germany.
The production has costumes by Catherine Kodicek, lighting by Jon Clark and sound byPaul Arditti.
This evening will also see a special performance to mark World Refugee Day, with all tickets offered to refugee charities, arts partners and guests from the cultural sphere.
It was also announced today that following its West End run at the Playhouse Theatre, The Jungle will have its American Premiere at St Ann's Warehouse in Brooklyn in December.