The Crucible's West End transfer – in rehearsals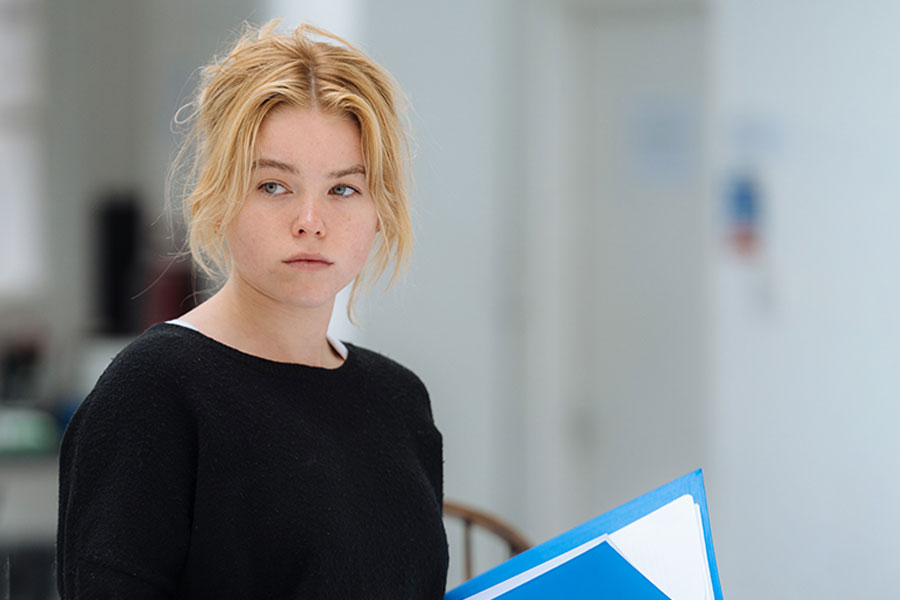 Rehearsals are in full swing for Lyndsey Turner's production of The Crucible, ahead of the award-nominated production's transfer into the West End.
Milly Alcock (House of the Dragon) will make her West End debut as Abigail Williams. She'll be joined by Brian Gleeson (Bad Sisters, Peaky Blinders) as John Proctor, and Caitlin FitzGerald (Succession, Showtime) as Elizabeth Proctor. Original cast members Fisayo Akinade, Karl Johnson and Matthew Marsh will return, as Reverend Hale, Giles Corey and Danforth respectively, alongside Christopher Birch, Lucy Brindle, Grace Farrell, Chyna-Rose Frederick, Miya James, Ebony Jonelle, Tama Phethean, Amy Snudden, Nia Towle and Samuel Townsend.
Completing the cast are David Ahmad, Zoë Aldrich, Stephanie Beattie, Raphael Bushay, Henry Everett, Nick Fletcher, Colin Haigh, Nadine Higgin, Gracie McGonigal, Alastair Parker, Joy Tan and Tilly Tremayne.
The Crucible, which is set amid the notorious Salem witch trials, is designed by Es Devlin, with costume design by Catherine Fay, lighting design by Tim Lutkin and sound design by Tingying Dong (content design) and Christopher Shutt (system design).
The composer and arranger is Caroline Shaw, and music director and arranger is Osnat Schmoo. Casting is by Alastair Coomer CDG and Naomi Downham.
They are joined by associate director Blythe Stewart, associate set designer Ellie Wintour, associate lighting designer Max Narula, fight director Bret Yount, lead intimacy director Ita O'Brien for Intimacy On Set, intimacy director Louise Kempton for Intimacy On Set, voice and dialect coach Kate Godfrey, dialect coaches Danièle Lydon and Hazel Holder, assistant music director Alice Grant and resident director Sophie Dillon Moniram.
It will play at the Gielgud Theatre from 7 June to 2 September 2023, with a press night on 15 June.
Tickets are on sale below.