The A-Z of Mrs P (Southwark Playhouse)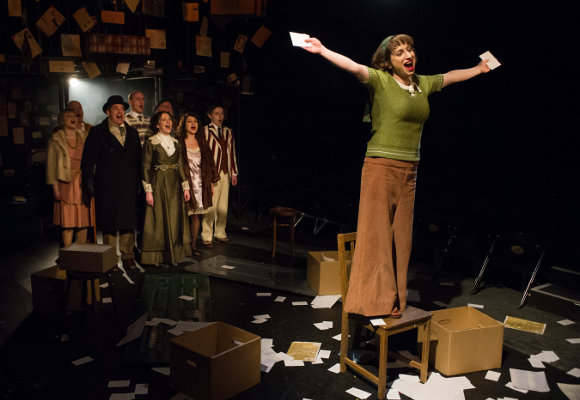 A new musical by playwright Diane Samuels and composer/performer Gwyneth Herbert tells the story of how Phyllis Pearsall, an eccentric painter and brave spirit, invented the London street guide, the vade mecum of all city dwellers that might only be replaced when you get in your car and turn on the sat nav.
Unfortunately for a musical supposedly about finding your way, the destination is completely swamped in the domestic thickets of Mrs P's overbearing father, a New York map maker, and a certifiably insane mother who starts the second act covered in blood and looking for a horse, presumably more useful than her daughter's invention as far as she's concerned.
This role is occupied by an emotionally incontinent and formidably bonkers Frances Ruffelle; it's as if the writers have given up on an initial plan of "a love song to London" and gone for broke with a slab of operatic hysteria. And all poor Mrs P is trying to do is sell her idea to Selfridge's, Foyle's and Barker's to the accompaniment of slammed doors in her face.
Mrs P is attractively played by Isy Suttie, best known as Dobby in Peep Show on Channel 4 and as one of The Now Show team on BBC Radio 4. The legend has it that Mrs P lost her way home from a party and spent the next five years compiling the A-Z.
The musical expands this to include the break-up of her marriage in Venice in 1936, an instructive telegram from her Hungarian Jewish father (the ever dependable Michael Matus) and an inspirational journey on the Number 16 bus to Maida Vale.
Suttie does her level best to embrace the family pressures in her campaign, but Mrs P comes across as a cheerfully dull girl guide rather than a poetic visionary: her "best foot forward" motto morphs into an accidentally lewd instruction of "head down, pecker up."
She is attended on her journey by an eager brother (Stuart Matthew Price) and a company of five including Sidney Livingstone, Sarah Earnshaw and Ian Caddick as various cartographers, fellow travellers and bus drivers.
For as long as the excitement of Mrs P's task is apparent, Sam Buntrock's production achieves a modest level of witty charm, and the show's one decent song, "Lovely London Town," expresses the idea of charting a city of dreams. Unfortunately, that dream gets swamped in a disastrous second act and a complete change of tack.
The technical presentation is fair enough, the acting area in a traverse seating arrangement overhung with a canopy of paper work, light bulbs and street signs (Upton Park E13 and Holloway Road are curiously adjacent), and the band of four suspended on a gantry at one end. Klara Zieglerova is the set designer, Steve Ridley the musical director and Nick Winston responsible for musical staging. In the end, their efforts seem part overblown, part wasted.