Stranger Things stage show announces West End cast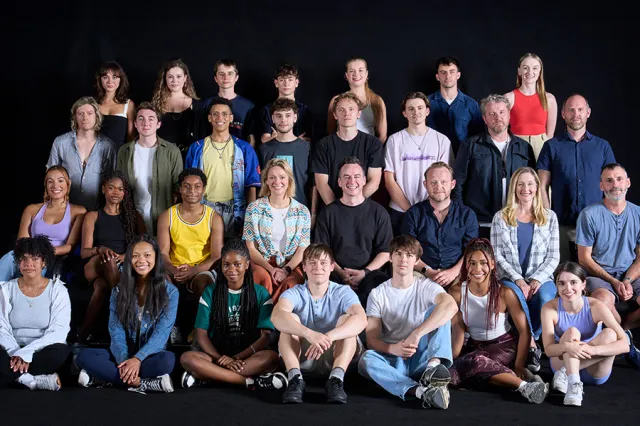 The West End company has been unveiled for the stage adaptation of hit Netflix TV series Stranger Things, which is set to open in the West End in November.
Unlike the TV series, which grounds itself in 1980s pop culture, the stage production (titled Stranger Things: The First Shadow) will be set in 1959 with characters including a young Jim Hopper, Joyce Maldonado, Bob Newby and Henry Creel (played respectively by David Harbour, Winona Ryder, Sean Astin and Jamie Campbell Bower on screen).
The West End production is written by Kate Trefry, directed by Stephen Daldry with co-director Justin Martin, with the latter duo saying today: "With rehearsals now underway, it's a joy to discover the world of Stranger Things: The First Shadow with our ferociously talented cast and watch the alchemy amongst our entire company grow as we together explore this new play. They're an extraordinarily gifted group of actors, and we can't wait to share this origin story with audiences."
Matt and Ross Duffer (more commmonly known as the Duffer Brothers, creators of the show), added: "The cast of Stranger Things: The First Shadow is nothing short of phenomenal. These actors brilliantly explore the early days of many fan favorites – including Hopper, Joyce, Bob, Henry and Dr Brenner – while also bringing new characters to vivid life. We couldn't be more thrilled and can't wait for you to meet them all live on stage. See you in London, nerds!"
We've created a bullet-pointed list for the cast, with some pointers as to which character is which, based on what we know of the TV series:
– Shane Attwooll (Wonder Woman 1984) as Chief Hopper, likely a relation of much-loved TV character Hopper,
– Kemi Awoderu (Arms and the Man) as Sue Anderson, who may grow up to be TV leads Lucas and Erica Sinclair's mother,
– Chase Brown (Mame) as Lonnie Byers, the ex-husband of Joyce in the original TV series,
– Christopher Buckley (David Copperfield) as Bob Newby, the beloved fan-favourite played by Sean Astin on screen,
– Ammar Duffus (The Lion, the Witch and the Wardrobe) as Charles Sinclair, later the father of TV series leads Lucas and Erica,
– Gilles Geary (Hangmen) as Ted Wheeler, later father of TV series leads Mike and Nancy Wheeler,
– Florence Guy (Tom Jones) as Karen Childress, who presumbly is later mother of TV series leads Mike and Nancy Wheeler,
– Max Harwood (Everybody's Talking About Jamie) as Allen Munson, who is likely related to the beloved Eddie Munson, played by Joseph Quinn in the TV series,
– Michael Jibson (Hamilton) as Victor Creel, later the spooky figure with no eyes from the TV show, also father of Henry Creel,
– Oscar Lloyd (The 47th) as James Hopper Jr, everyone's favourite detective from the TV show played by David Harbour,
– Louis McCartney (Hope Street) as Henry Creel, who grows up to be the villanous Vecna, and has psychokinetic abilities,
– Isabella Pappas (Appropriate) as Joyce Maldonado, later mother of Will and Jonathan Byers and played by Winona Ryder in the Netflix series,
– Matthew Pidgeon (The White Card) as Father Newby, likely a relative of Bob Newby (see above),
– Calum Ross (Wednesday) as Walter Henderson, likely related to Dustin Henderson, who is played by Gaten Matarazzo in the TV series,
– Maisie Norma Seaton (Shetland) as Claudia Henderson, later mother to Dustin Henderson,
– Patrick Vaill (Oklahoma!) as Dr Brenner, the enigmatic doctor who later fosters 11 in the TV series, where he is played by Matthew Modine,
– Lauren Ward (Dear Evan Hansen) as Virginia Creel, wife of Victor Creel and mother of Henry, and
– Ella Karuna Williams (The Equalizer) as Patty Newby, who is likely related to Bob Newby in some way
Completing the cast are Tricia Adele-Turner, Lauren Arney, Reya-Nyomi Brown, Patricia Castro, Lydia Fraser, Isaac Gryn, Mark Hammersley, Tom Peters, Kingdom Sibanda, Tiana Simone, Danny Sykes and Meesha Turner.
The show will run at the Phoenix Theatre from 17 November 2023, with tickets (on sale below) currently available through to June 2024.
Set design is by Miriam Buether, costume design by Brigitte Reiffenstuel, lighting design by Jon Clark, sound design by Paul Arditti, illusions design and visual effects by Jamie Harrison and Chris Fisher, video design and visual effects by 59 Productions, original music and arrangements by D J Walde, choreography by Coral Messam, movement direction by Lynne Page, wigs, hair and make-up design by Campbell Young Associates, technical director is Gary Beestone for Gary Beestone Associates, props supervision by Mary Halliday, dialect by William Conacher, fight direction by Kev McCurdy, casting by Jessica Ronane Casting CDG with additional casting by Charlotte Sutton CDG, and international casting consultancy by Jim Carnahan.