Speed-the-Plow director: 'Lindsay Lohan is a proper actress'
Lindsay Posner's West End revival of David Mamet's Speed-the-Plow, which opens to press tonight (2 October), could have grabbed attention for several reasons.
For one, it's Posner's sixth Mamet production, and the first revival of Speed-the-Plow since Kevin Spacey and Jeff Goldblum starred in an acclaimed production at the Old Vic six years ago. Secondly, it features two multi award-winning actors – Richard Schiff (best known as Toby Ziegler in The West Wing) and Nigel Lindsay in the leading roles.
But instead, as with the play's 1988 Broadway premiere, the headlines have been all about the actress playing the supporting role of Karen. In 1988, it was pop star Madonna. In 2014, it's Hollywood enfant terrible Lindsay Lohan. Here, Posner tells us how the production came about, and how he feels about accusations of 'stunt casting'.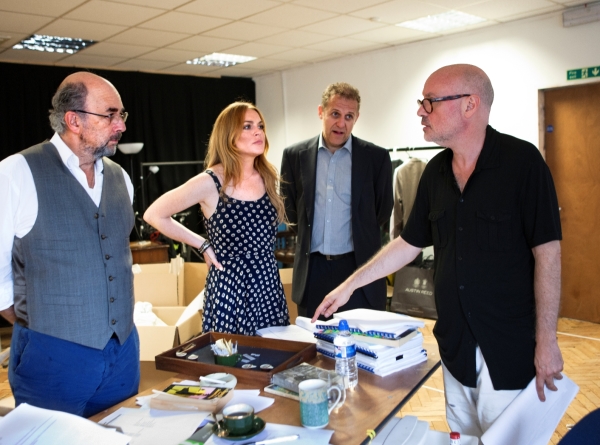 What prompted you to revive Speed-the-Plow?
I've directed many Mamet plays but never this one, and I've long wanted to. Because of the 2008 revival starring Kevin Spacey and Jeff Goldblum, I knew I needed to find appropriate casting, both fresh and also equal to their calibre. I was talking about the play with some producers, and I'd heard that Lindsay Lohan was in London. So I immediately asked the producers to find out if she was interested in playing Karen, which they did. I had a number of meetings and rehearsed readings with her so we could both be sure it was something we wanted to do, and I was convinced by those meetings that she was serious and really wanted to do it, and reclaim her acting career.
So you'd presumably deny this was a case of stunt casting?
Well it was inevitable there would be accusations of that, so I wasn't irritated by them. But if I'd wanted to do stunt casting I would have cast a supermodel or Paris Hilton. I've always believed that Lindsay Lohan is a proper actress. In the movies I've seen her in, despite her troubles in life, I've always thought she was supremely talented. And when she came into the rehearsed readings it was manifestly clear that she hasn't lost that talent. Although for obvious reasons I was taking a risk, I felt I was casting a really good actress for the part.
Was that initial impression borne out in rehearsals?
Absolutely. I'm quietly confident that people's eyes will be wide with surprise when they see her on stage. It took her a few weeks to understand the repetition and discipline of theatre because it's something she's never known, but once she did understand she took to it like a duck to water. I have to say that in terms of vocal clarity and technique, you wouldn't know she hasn't been on stage before, and that really surprised me.
So none of the 'rehearsal walk out' rumours were true?
That [the rumours] really did depress me. It was all complete lies. I'm used to tabloids, but I was shocked to see serious websites like the Huffington Post saying that I'd given her warnings about her behaviour when she hadn't even started rehearsals. It was just completely made up. They said I'd told her "one strike and you're out", which is not a phrase a British director would use anyway. Another time in rehearsals there was a story in the Evening Standard about her running naked through Selfridge's, but I'd been in the rehearsal room with her at the time it supposedly took place. I do understand the way the media works, but even I was shocked by that.
It's easy to forget you've got two acclaimed lead actors in Richard and Nigel
Absolutely, I've got two actors of extremely high calibre. Because Lindsay [Lohan] has never been on stage before, and was obviously going to be very nervous in one way or another, I thought it would be really useful to cast seasoned theatre actors to provide support, stability and know-how. The cast as a whole bring a lot of insights into the workings of Hollywood, which really helps with the play.
What is it about Mamet's work that chimes with you?
I find that when you mine the sparse dialogue, the play in rehearsal becomes much more complex and profound. Mamet's characters turn on a sixpence, they're quite hard to unravel. And they're deceptive. Sometimes when you read a play like Speed-the-Plow quickly, it's deceptively slight, but when you get into it you realise how brilliantly structured it is. That, combined with the fact I love to work on plays with a strong musical rhythm, with language that offers a visceral quality to the audience.
You're also working currently on a new production of Molière's The Hypochondriac
That's right. It's an adaptation by Richard Bean that we did about seven or eight years ago, but I felt it hadn't quite lived its life. It was very popular at the Almeida and we were disappointed that it didn't transfer, so when the opportunity came up to do it again we grabbed it. We've reworked bits of it Richard Thomas, who wrote the lyrics for Jerry Springer the Opera and Made in Dagenham, has written some songs for it. It's going to be very exciting.
You always seem very busy – what else is on the horizon?
Yes, I'm one of those directors that gets quite twitchy if they're not actually working on something! At some point next year I'll be doing a revival of Lettice and Lovage by Peter Shaffer. I'm also going to do Noel Coward's Fallen Angels on Broadway and a play by Florian Zeller called The Truth in a new translation by Christopher Hampton. It's a very good play – a bit of a cross between Harold Pinter and Yasmina Reza, and the comic actor Hugh Dennis will be performing in that, hopefully in the West End.
Speed-the-Plow opens to press at the Playhouse Theatre tonight (2 October 2014). The Hypochondriac is at Bath Theatre Royal from 8 to 18 October.