Something for all in the 2014 season at Colchester's Mercury Theatre
Booking is now open for the 2014 season of new productions at Colchester's Mercury Theatre. Artistic director Daniel Buckroyd unveiled details of the programme at a special launch event on 27 November in the theatre's studio.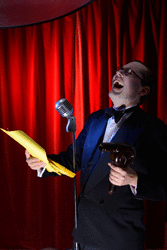 Colchester mayor Cllr Colin Sykes had high praise for the town's performing arts, both professional and amateur, and emphasised their importance for the surrounding area, as well as for the town itself. "It makes Colchester the cultural capital of East Anglia", he said.
Buckroyd paid tribute to the various national and local bodies which help to fund the Mercury and allow it to develop its relationship with other major regional theatres, as well as to attract interesting visiting companies.
Two of the current season's production were the highest grossing in the theatre's history and there were also more first-time attenders.
He laid stress on the importance of getting the balance between home-grown and visiting productions and their genre right. The 2014 Made in Colchester season features eight productions, of which three are dramas. Dial M for Murder in a co-production with Fiery Angel runs between 6 and 15 February and stars Christopher Timothy.
Betty Blue Eyes is another major co-production, which you can see from 14 March until 5 April. 9 May sees the start of Amanda Whittington's adaptation of the Alan Sillitoe novel Saturday Night and Sunday Morning, which will be directed by Tont Casement. The last performance is on 24 May.
A new musical premieres between 13 and 28 June before its national tour. This is You Can Always Hand Them Back is by Peter Skellern and Roger Hall and it's about the joys, perils and occasional traumas of being a grandparent.
Following previous successful Michael Morpurgo adaptations, Friend or Foe, about children evacuated during the Second World War to the English countryside, will run from 29 August until 13 September. Buckroyd has made this new version.
He is also the director for a new production of Macbeth between 2 and 18 October. Equally blood-bolted – though not quite in the same way – might be Dracula (30 October to 16 November) as presented as Fitzrovia Radio Hour might have done in the 1940s for a sound broadcast. Prepare to find out how special effects and the eeriest of atmospheres were created.
New confirmed visiting companies include Cheek by Jowl with 'Tis Pity She's a Whore (19 to 21 February), Ballet Boyz's The Talent (4 to 5 March), La Bohème from OperaUpClose (7 and 8 March), a Fitzrovia Radio Hour taster on 25 April and Out of Joint's co-production with the Octagon Theatre, Bolton of Timberlake Wertenbaker's Our Country's Good (29 April to 3 May).
It began as a therapy for soldiers badly wounded in conflict, developed into a fund-raising event and is now a touring theatre phenomenon. The Two Worlds of Charlie F, in support of the British Legion, is on stage from 27 to 31 May and will have a special resonance for this garrison town with its 2,000-year military history.
Birdsong, adapted by Rachel Wagstaff from the Sebastian Faulks novel, has a new tour in 2014 and comes to the Mercury from 2 to 7 June. The Mercury's own youth theatre group is performing The Wall, based on the Pink Floyd album from 21 to 23 August.
Family and children's shows include Sixth Sense Theatre's Splosh (7 an 8 March), Scamp and the Watford Palace Theatre's production of Pirate Gran (11 and 12 April), Dinosaur Zoo (26 and 27 April) and Nana's Jumble (29 to 31 May).